Delta Commissioner Orders Arrest Of Two DESTMA officials For Bribe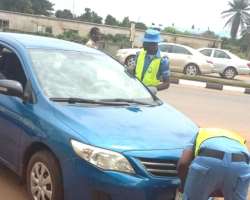 Two officials of the Delta State Traffic Management Authority (DESTMA), have been arrested for extorting motorists in Asaba, the state capital.
The state Commissioner for Transport, Mr Vincent Uduagahan, ordered for their arrest by the police in the early hours of Thursday at the front of the Federal Secretariat near the traffic light at the State Secretariat junction in Asaba, said it was time for the officials to account for their sins.
Uduaghan, who expressed dissatisfaction to the attitude of the officers to work and their despoliation to motorists particularly at that spot, said their arrest would serve as deterrent to other officers with such unruly behaviour.
According to the commissioner the officers arrest motorists at flimsy excuses, lock up their wheels and demanded for certain amount from them without properly booking them for any offense.
He said that he had received several compliants, adding that the culprits must be arrested and made to write a statement at the police on why they extort and collect bribe from the motorist on the excuse that thy beat traffic light.
The Nigerian Voice reports that some of the federal workers and other transporters came out to thank the commissioner for the arrests while speaking on their personal experiences in that regard.
Also the commissioner followed the police van that conveyed the culprits to the station to ensure that they put down a statement while promising to see to it that the offenders were sacked from the job.
It would be recalled that The Nigerian Voice had exclusively reported the activities of some DESTMA officials at the Jesus Saves Junction/Summit road traffic post where personnel of the agency were caught on camera in the act. The link below is our first alert story of the crime.
https://www.thenigerianvoice.com/news/266984/destma-official-cut-red-handed-counting-extorted-loot.html