New Refinery To Boost Fuel Product In Nigeria At Completion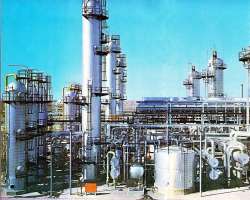 JIL-AMBER Consortium via its SPV African Refinery Port Harcourt Limited is advancing with its 100, 000 BPD, Refinery Relocation and Colocation Project near the Port Harcourt Refining Company.
The Nigeria National Petroleum Corporation (NNPC) Group General Manager and Group Public Affairs Division have confirmed the 100, 000 BPD Collocation project and the current project progress status disclosed by the GMD of NNPC, Dr. Maikanti Baru.
He said "It's not a modular refinery; it's a normal refinery with about 100, 00bpd capacity, as BP, has been sold off to the companies that wants to bring it over from Turkey to install it here".
He also added that "the investors had commenced the process of relocating the refinery to be installed near the Port Harcourt Refinery under the co-location initiative".
It is confirmed by reliable source that JIL-AMBER Consortium the winner of the Port Harcourt Refinery Tender for the Colocation Project completed the engineering processes and have been approved by the Department of Petroleum Resources (DPR) to relocate and commence construction.
Having completed and approved the Front-End Engineering Design (FEED), the Detailed Engineering Design (DED) and the Environmental Impact Assessment (EIA).
JIL-AMBER Consortium consists of JIL Engineering & Oil Services Ltd and Amber Enerji Makina Logistics Ltd headed by its CEO. Mr. Rony Kuperberg supported by leading technical partners from the local and international energy sector such as Basic Equipment, a leading Energy contractor based in Houston USA and Axens Technology (North America) an international provider of advanced technologies (licensor).
The project is reportedly set to deliver as part of its refined products 1,898,460,000 liters of PMS (Petrol) which would on commissioning augment the exit of importation of PMS by 2019 and save the Federal Government over $1.7 Billion USD in foreign exchange yearly.
In addition, the project would employ at least 2,500 Nigerians and boost local production as a substantial part of procurement and site construction will be done locally in Port Harcourt and other parts of the country.
This project will go a long way towards making Nigeria a net exporter of petroleum products in the nearest future. This would represent a major victory for the government and the NNPC.
The project covers many of Federal Government's promises which include refinery construction, economic development, and reduction in foreign exchange dependency and employment as it would also be a major boost to the Economy and Nigeria as a whole.