IOCs remit N813bn to FG in one year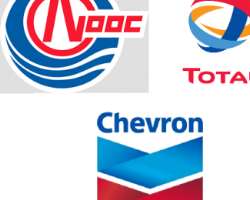 Documents obtained from the Canadian government have revealed that the Federal Government of Nigeria received $2.68 billion, about N817.4 billion, from Total, Chevron and China National Offshore Oil Company (CNOOC) in 2017.
The companies presented the information under Canada's extractive industry law which required extractive entities active in Canada to publicly disclose, on an annual basis, specific payments made to all governments in Canada and abroad.
Giving a breakdown of the payments which was made to the various agencies of government, the report which was compiled in 2018, noted that Total made total payments of $1.2 billion to the Nigerian government; Chevron made total payments of $1.4 billion, while CNOOC paid the country $586.7 million.
Reporting under the law, Total said it paid $614.8 million in taxes; $2.7 million in licensing fees; $46.2 million in infrastructure improvements, mainly to the Niger Delta Development Commission, NDDC; and $488.5 million for production entitlements.
Chevron on the other hand, paid $5.4 million, under the Nigerian Export Supervision Scheme, NESS; it paid $18.3 million $101.24 million as fees to the Nigerian Content Development Management Board, NCDMB and Niger Delta Development Commission, NDDC respectively.
Chevron also paid $275.9 million and $2.4 million to the Department of Petroleum Resources, DPR, for royalties and fees respectively, while it paid $1 billion in taxes to the Federal Inland Revenue Services, FIRS.
Further breakdown showed that Chevron paid $214.8 million and $78.9 to the Federal Government for Niger Delta Concessions; while it paid $817.3 million and $48.4 million for its Oil Mining Leases, OML, 127 and 128.
In addition, CNOOC paid the FIRS $75.7 million; while $1.43 million was paid to the Kaduna State Government under the heading Infrastructure Improvement Payments.
Source:
NAN