Tanko Yakasai Led Northern Leaders And Stakeholders Assembly Condemns Siege On The National Assembly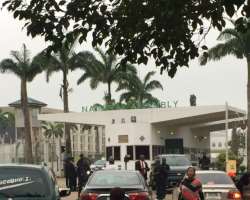 The Northern Leaders and Stakeholders Assembly (NLSA) led by TankoYakasai, has condemned the Monday morning siege on the National Assembly, by security forces.
In a statement signed by Dr. Umar Ardo, Secretary of the Northern Leader and Stakeholders Assembly, NLSA, he said; "The Northern Leaders and Stakeholders Assembly (NLSA) watches with awe the trampling of Nigeria's democratic values as perpetrated by the President Buhari-led APC Federal Government."
NLSA, in their statement said; "The attempt to unlawfully open the Senate Chambers by the siege on the National Assembly this morning for whatever reason in a gestapo-like manner by the Nigerian security forces is perhaps the worst form of impunity our country has witnessed in recent history. This destructive act against our democracy can only be surpassed by a full blown military Coup d'état."
According to Ardo, he said; "Nigeria's Democracy was restored and nurtured since 1999 on the sweat and blood of patriots after it was toppled by General Buhari himself in 1983. Nigerians cannot therefore seat back and watch all that have been built for nearly two decades destroyed again by headless power mongers on account of their insatiable selfish interests."
"NLSA condemns this act in its totality and call upon the NASS leadership to as a matter of urgency reconvene the Assembly and summon the leadership of the executive to explain this brazen act by the security services, and apply disciplinary actions where necessary as provided for by the constitution.
"NLSA also call upon all Nigerians, especially Northerners, to stand up against this tyranny and condemn it without reservation and defend our democracy and our constitution. Enough is enough!"