Saraki convenes emergency meeting of National Assembly leadership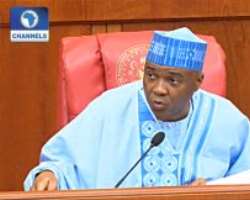 President of the Senate, Dr Bukola Saraki, has called an emergency meeting of the leadership of the Upper and Lower chambers of the National Assembly.
The meeting, which is scheduled to hold on Tuesday in Abuja, comes days after some lawmakers called for the reconvening of the assembly in order to attend to some urgent matters of state.
The principal officers of the Senate and the House of Representatives are expected to attend the meeting.
It will be the first meeting since the National Assembly went on recess two weeks ago, following heated political manoeuvrings trailing the defections in the parliament.
Meanwhile, the leadership of the National Assembly is also expected to meet with Chairman of the Independent National Electoral Commission (INEC), Professor Mahmood Yakubu.
The Presidency had said that it was not contemplating and would not be a party to anything that would destabilise the National Assembly.
Senior Special Assistant to the President on National Assembly Matters, Senator Ita Enang, faulted the allegations that they were planning to get the Senate reconvened illegally.
He told reporters in the nation's capital that while the Presidency would continue to support the parliament, he has a responsibility of ensuring that the executive and the legislature stay in peace.
Senator Enang appealed to the lawmakers to reconvene to attend to some of the issues that required their attention, including the 2018 supplementary budget.
He said President Muhammadu Buhari would always do the right thing and would never be in support of raising money in a manner that was contrary to the provisions of the Constitution.
Channels tv