WHITHER IBB'S FORMER SECRETARY GOOFED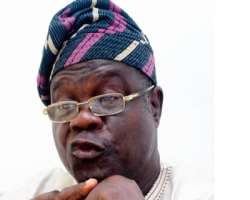 PHOTO: MAJOR DEBO BASHORUN.

It is quite unfortunate that when some people or groups of people want to achieve certain personal goals and discredit others to reach their target, they employ the same do-or-die tactics that all well-meaning Nigerians condemn in our affairs.
A national daily of Tuesday 8th June, 2010, reported an interview granted to it by former Military President Ibrahim Badamasi Babangida's secretary, Major Debo Bashorun (Rtd) who claimed threats to his life because of the knowledge he possesses on the secrets of IBB's government. While this is not an attempt to oppose his claims or to justify any action of government in Nigeria since independence, it is worthy to call to attention certain aspects of politicking that some Nigerians have perfectly condescended into.  
All allegations leveled against the government of IBB have been recounted by many people who have one thing or the other against the personality of the retired general. There can be no hiding the truth that, like any other government Nigeria has ever witnessed, there were lapses, shortcomings or misrule to certain level by the government in question. In short, military rule all over the world cannot be divested of cruelty, hostility and oppression. Military language is "obey before complain".
What seems to be irritating this writer is this question: How many years have passed and the respected Major refused to make these revelations to Nigerians? Is it because he so much feared to die for the nation he was appointed to serve? Is it because he was so patriotic that he preferred to keep the secrets of the government he was part and parcel in all its deeds?
To these questions, the answers may not be far from the fact that he might be quite an accomplice of the whole events. This can be buttressed with the fact that one who is not comfortable with a government decides to quit. In Nigeria, political office holders or highly placed appointees hardly turn in the towel even in the face of controversies. Everybody knows that once in government, the swelling pockets of the appointees will never allow them go near the thought of resignation.
The recent issue with Prof. Dora Akunyili further gives boost to this claim. Many Nigerians believed that one who does not want to play along with the government which employed him or her should give way rather than criticizing or condemning it. But Akunyili was so attached to serving Nigeria and her citizens more than serving individuals. She stood her grounds, spoke her mind to the government and justified her stand. There is no doubt that millions of those who believe in Nigeria as their fatherland understood her and supported her. She did not fear to die for the cause of Nigeria.
The same thing was recorded of IBB's spokesman, Mr. Kasim Afegbua who resigned his appointment as a Commissioner with the government of Edo State. Whatever reasons were advanced for the resignation, it was a laudable move because the slogan that will definitely change Nigeria for the better even at the grassroots should be "if you can't beat them, don't join them; and not join them if you can't beat them". If an appointee honourably resigns, he will be in the best position to say, do or organize what will justify his aims of leaving his position.
The history of Nigeria is very scanty of people who honourably vacated office either in an attempt to redeem the nation or on the grounds to make their stand as opposition clear and justified. IBB cannot be locked up from the family of this group and only people who understand the politics of the country appreciate this fact.         
But to keep quietly quite all over these years won't be far from being a sign of unpatriotism and an indication that bad waters equally flew in his direction. There are people who have died for the sake of the country because they insisted that the nation must be moved forward by refusing to partake in deals which they were convinced would plunge the nation into disarray. He would have been a hero if he had refused to partake in what he claims. He would have been remembered by many Nigerians including this writer if he had lost his life in the struggle to make Nigeria great. He would have become a role model for the young Nigerians to emulate if he stood his ground and opposed dictatorship in whatever form when he had the power to do so. But he preferred to preserve and enjoy his life with the wealth of the nation which he was able to acquire – even if legitimately – until now that Nigerians are becoming tired of sentiments of all sorts.
Where was he when the Oputa panel was sitting to give testimony to all that he claims now?  A lot of patriotic Nigerians stormed the stage and made meaningful contributions that assisted in taking certain decisions which may have given push to the country. Security was adequately provided for the people who come out openly and talked freely on any of the burning issues before Justice Oputa.
I think what Nigerians should do is to go to the pooling booth en mass and ensure that they vote for the right person. It is quietly un-patriotic to deny any Nigerian his or her right to vote and be voted. It is therefore paramount on those who feel that they are more enlightened than others to always consider the provisions of the constitution instead of indulging in discrediting other citizens in a veiled attempt to create enmity and overheat the polity.
Muhammad Ajah is a writer, author, advocate of humanity and good governance based in Abuja. E-mail- [email protected]
Disclaimer:

"The views/contents expressed in this article are the sole responsibility of the author(s) and do not necessarily reflect those of The Nigerian Voice. The Nigerian Voice will not be responsible or liable for any inaccurate or incorrect statements contained in this article."
Articles by thewillnigeria.com