Former NUJ Vice President Tasks Leadership on Welfare of Journalists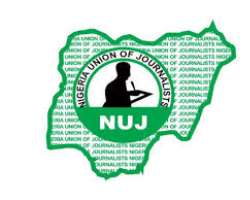 The leadership of the Nigeria Union of Journalists NUJ has been challenged to give premium to the welfare of journalists in the country.
A former Vice President of the Union in charge of Zone B, Prince Dele Atunbi, gave the charge in a statement issued in Abuja.
Prince Atunbi who is a foremost Presidential hopeful in the forthcoming 6th triennial delegates conference bemoaned the lackluster attitude of the leadership to the welfare of journalists in the country.
A statement issued Weekend by Prince Dele Atunbi, Former Vice President NUJ,Zone B said the labour leader lamented a situation whereby NUJ has no single position paper on the ongoing negotiation of a new National Minimum Wage.
He pointed out that the inertial attitude of the leadership of the Union to the uplift of the well being of journalists in Nigeria is a source of concern to media professionals.
Prince Atunbi challenged the current executive of the union led by Waheed Odusile to point the attention of journalists to just one achievement of his CWC in the area of welfare of journalists in the last three years.
The former Vice President of the union asserted that under the current dispensation, the welfare of journalists has suffered colossal neglect unlike the immediate past administration led by Mallam Garba Mohammed who negotiated upward review of weigh-in allowance for media workers in 2011.
The labour leader advocated the need for the NUJ to be proactive in addressing members welfare. He asserted that the warning industrial actions at the FRCN and the NAN at the instance of chapels are pointers to the level of disconnect between the present leadership and the journalists in the country.
Prince Atunbi reminded the leadership that negotiation of condition of service for journalists is a constitutional matter as enshrined in Article 2 of the union's grundnorm which the leadership swore to protect and defend three years ago.