Abuja group hails expulsion of Buruji Kashamu from PDP, calls for his extradition to USA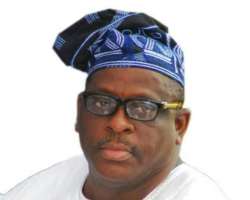 Abuja based group, the Society for Rule of Law in Nigeria (SRLN) has hailed the expulsion of Senator Buruji Kashamu, describing it as a step in the right direction.
The group, which also called for the immediate extradition of Senator Kasamu to the United States of America (USA) to face trial for his alleged involvement in drug trafficking, said it was strange that anyone in Nigeria, no matter highly placed will be afraid to go to the United States free of charge as being done by Kasamu.
SRLN, in a statement on Wednesday and signed by its National Co-ordinator, Dr Chima Ubeku, said it was laughable that Senator Kasamu could still be insisting that he remained in the PDP after his expulsion was ratified by the National Executive Committee of the party, pointing out that "no one can impose a willing member on an unwilling political party.
The group said "no gathering of sane people should be happy seeing a character like Buruji Kasamu, whose real identity is questionable in its midst."
It said PDP had done well be expelling Senator Kasamu, describing the decision as a sign that the party was ready to purge itself of people of questionable character.
The SRLN warned the ruling All Progressives Congress (APC) against accepting Kasamu into its fold, noting that his activities since 2015 pointed to a desperate search for a safe haven in the APC.
The group reminded the federal government that Kenya recently extradited four members of a drug cartel, to the United States for trial for allegedly directing a major heroin trafficking ring in East Africa.
It said now that the PDP has offloaded Kasamu from its fold, the APC-led federal government should not be seen as protecting suspected criminals who should be facing trial either in Nigeria or foreign lands.
The group called on the federal government to immediately extradite Senator Kashamu to the USA so that Nigeria can be washed clean of complicity of his alleged criminal acts.