Defection of APC Lawmakers: Good Riddance To Bad Rubbish, Says Hon Kurfi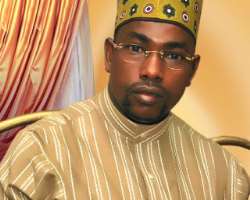 Hon. Danlami Mohammed Kurfi
The gale of defection of Federal lawmakers from the ruling All Progressives Congress (APC) to the opposition Peoples Democratic Party (PDP) on Tuesday July 24, 2018 has received fresh knock from a legislator representing Kurfi and Dutsinma Federal Constituency in Katsina State, Hon. Danlami Mohammed Kurfi.
Kurfi who is the deputy Chairman House of Representatives Committee on Petroleum Resources Downstream stated that the defection cannot in any way hinder President Muhammadu Buhari's bid for re-election in 2019, contrary to the thinking of those he called political prostitutes and ingrates.
In a chat with some National Assembly correspondents on Wednesday, the Katsina born parliamentarian made a call to all Nigerians especially those that are interested in progressive and people-oriented governance to keep faith in President Mohammadu Buhari APC-led government and that they will never be disappointed with a man with sincerity to right the wrongs done to the helpless and hapless masses.
He said, ''it is really appalling and highly shameful that those who immensely benefited from our platform and having risen to become parliamentarians in both chambers of the House of Representatives and the Senate could dump the party for reasons that are not legally or morally tenable is unfortunate. I simply see them as political prostitutes and ingrates, regrettably for them; they are paper-weight politicians who lack electoral value.
A lot of them won election in 2015 because of President Buhari's electoral influence and credibility that is the truth. I am extremely confident that in 2019 APC will emerge victorious, there is no controversy about Buhari wining the presidential election and same goes to our Governor in Katsina State, His Excellency, Aminu Bello Masari, he will also win because of his outstanding performance '' He stated.
Hon. Kurfi further disclosed that such betrayal and lack of patriotism to national development is expected when the fight against corruption by Buhari became so rife, loud and forceful.
In his word, ''Every right thinking Nigerians should not be surprised at what played out last Tuesday, of course our people say when you can't stand the heat, you dare not stay in the kitchen where cooking takes place, that is what can best describe the Tuesday scenario at the two hallowed chambers, it was indeed a show of shame and a mockery of our cherished democracy. Please take note when you fight corruption it will definitely fight back, Nigerians can now see clearly the faces of those standing as impediment to the country's wheel of progress''
The lawmaker stressed further, ''I must commend the Majority Leaders of the two chambers and our party's national leaders for their firmness and the stand they took when this despicable cross carpeting of some of our colleagues took place. Meanwhile those applauding these decampees are simply glorifying illegality, the defections clearly failed the test in Section 68 (1) (g) of the 1999 Constitution (as amended). The truth is that there are conditions that have to be met before defection can be valid. May be they don't know, it was wrong for the defectors to rely on the reformed All Progressive Congress (rAPC), this is a group that is not recognized by law or registered by INEC. They have committed political suicide, infact they have automatically lost their seats, the Supreme Court is very clear on this.'' Kurfi said.