My Life Is Under Threat, Delta Journalist Cries Out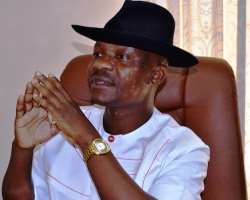 A frontline journalist who is a well-known critic of successive governments and the present administration in Delta State has cried out over allege threat to his life by some unknown persons including an unidentified local government chairman in the state.
The reporter, Amour Udemude, who posted on his Facebook page Wednesday 17 July 2018 said, reports reaching him shows that someone simply identified as 'COLONEL' has been commissioned to murder him.
Hear him, "Intelligence report before me has revealed that a certain guy who goes by a nickname "COLONEL" has been contracted to assassinate me.......
"The information at my disposal also revealed that a certain chairman of a local government (not any of the Isoko local government areas) is in the picture of the unholy act...........
"It is a known fact that, as a JOURNALIST, I have been a critic of issues generally in no particular order, as a result, some persons who feel ruffled and uncomfortable want me silenced...........
"This information is for the general public, however, my lawyers, have officially notified relevant authorities in Delta state
The journalist was seen on picture protesting alleged substandard materials used in constructing curvet and road in Irri, Isoko South local government area of the state recently.
Also another journalist who works with Daily Times, Matthew Ochei, has alleged that some government officials in the state have threatened him over his style of reportage.
He alleged that when the governor briefed the press during his quarterly press interaction on June 27, he was confronted and told that he has been allegedly blacklisted by the government.
In another development, following a news report which bothered on fraud and corrupt practices published in Blank NEWS Online, the publisher of the news website, Mr. Albert OGRAKA, has been allegedly threatened by officials of the state government for daring it.
The publisher was told to pull down the story and apologize to Mrs. Pat Ejeteh, the former State Universal Basic Education Board (SUBEB) chairman, who was reported to have allegedly been arrested for questioning by the Nigeria anti-corruption agency, Economic and Financial Crimes Commission (EFCC) over fraud related matters.
Mr. Albert OGRAKA was purportedly called by the Chief Press Secretary (CPS) to the governor, Mr. Charles Ehiedu ANIAGWU from his phone number 08033295712, at 05:36pm, 05:37 pm and 06:32 pm respectively (Nigeria Time) on Tuesday, July 17, 2018 with alleged threat that if the request to pull down the story and an apology is not immediately carried out, he would allow the use of operatives of the Nigeria police and Department of State Security (DSS) to arrest Mr. Albert OGRAKA, a seasoned professional journalist and member of the Nigeria Union of Journalist (NUJ).
"The CPS to the Delta state governor, Mr. Charles Ehiedu Aniagwu had argued that the story was false and that Mrs. Pat Ejeteh was his relative and could not have been arrested without his knowledge."
"I requested that a rejoinder should be written by Mrs. Pat Ejeteh, if she thinks the story was false, instead I was reminded by Mr. Charles Ehiedu Aniagwu that one of the sons of Mrs. Pat Ejeteh who presently serves in the Nigeria Navy is angry and would not hesitate to deal with me, adding that he (Charles Ehiedu ANIAGWU) is also not happy with me because of the story."
"Before Mr. Charles Ehiedu Aniagwu's call, I had missed a call from the Public Relations Officer (PRO), Government House, Asaba, Mr. Harold Ojji from his phone number 08033822619, at 05:30 pm on Tuesday, July 17, 2018."
"I also received another call, urging me to quickly pull down the story from the Executive Assistant to the governor, Directorate of Orientation, Delta state, Mr. Eugene Uzum from his phone number 08038732441, at 10:14 pm on Tuesday, July 17, 2018."
"I have received several threat calls from unknown phone numbers and unknown persons since the story was published.".
"I want the Nigeria Union of Journalists (NUJ), Delta state Council; NUJ South- South, NUJ National, the Nigerian public, Human Rights Organizations, Delta Online Publishers Forum (DOPF), the Committee to Protect Journalists (CPJ) and the International Community to know that my life and that of my family members are presently in danger and to also hold the above named officials of the Delta state government responsible for any unforeseen circumstances and incidents", he added.
At press time, text message sent to the spokesman of Okowa, Aniagwu, Thursday 19 July 2018 at about 5:59pm to get his side of the story was rebuffed.