Ekiti State Democracy Vanguard Commends INEC For Improved Election Conduct In Ekiti State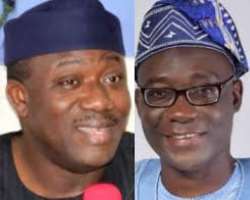 A local observer during the 14th July 2018 governorship election in Ekiti State, Democracy Vanguard, has described the election as a better improvement over the previous elections of 14th April 2007 and 21stJune 2014, and congratulates the Governor-elect, Dr. Kayode Fayemi of the APC and the good people of Ekiti for been violence-free while exercising their franchise.
In a statement signed by the State Coordinator, Yetunde Adeoluwa, the organization commended the Independent National Electoral Commission for conducting a free, fair, credible and conclusive election with an improvement over previous ones.
"The peaceful conduct of the INEC and Security agencies during the 14thJuly 2018 governorship election shows that our democratic process is improving. There was no record of ballot snatching, rigging, violence or electoral malpractices, as it was experienced in 2007, while there was no security clampdown compared to 2014. This is highly commendable.
"Despite the fact that the political situation was charged for violence during the campaign, the security agencies were highly coordinated and prevented attempts by some hoodlums to truncate the electoral process. The deployment of the 30,000 joint operatives of the Nigeria Police, DSS, Civil Defence, Military and other paramilitary was very effective.
Adeoluwa advised Prof. Kolapo Olusola to accept defeat in good faith and congratulates the Governor-elect Dr. Kayode Fayemi while admonishing him to provide responsible leadership. In her words,
"We at Democracy Vanguard encourage the PDP candidate Prof. Kolapo Olusola to accept the result in the spirit of sportsmanship. There is nothing to challenge in court because the election was free, fair, credible, and conclusive. Similarly, we congratulate the Governor-elect, Dr. Kayode Fayemi on his victory at the polls and also call on him to use his profound pro-democracy background in offering the good people of Ekiti state good governance, devoid of pauperized stomach infrastructure and restore the values of the state."
The Civil Society group reiterated the need for INEC and the police to "prosecute every electoral offender arrested during this election period in line with the law so as to serve as deterrent to others."