Babcock Powered Halogen Security Institute Graduates 47 Security Experts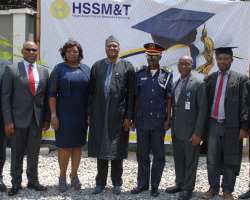 The management of Halogen Security Company Limited has received commendations from Lagos State Government and key security stakeholders on its numerous contributions towards developing quality education framework and strategic security policy direction for Nigeria's business environment.
The Special Adviser on Security and Intelligence to the Governor of Lagos State, Mr. Adekunle Ajanaku, who spoke at Halogen School of Security Management & Technology (HSSM&T) maiden graduation ceremony of 47 Diploma in Security Management graduates in Lagos, noted that Halogen Security has shown itself on all fronts to be a worthy partner with Lagos State on various efforts aimed at creating a secured business environment.
"Let me acknowledge the leading role of Halogen Security in our Security Sector Reforms in Lagos State, particularly the mainstreaming of the private security sector into our security architecture", Ajanaku noted.
He added that Lagos State Government, "have followed carefully the sterling performance of Halogen Security in their various beats and the quality of their security support services. We therefore, have no doubt that graduands of today have been equipped with such qualities at this time of our several security challenges."
In his opening remarks, Group Managing Director of Halogen Security Company Limited, Mr. Wale Olaoye stressed that, over the years, Halogen Security Company has contributed immensely towards developing futuristic security education curriculum for the country. He emphasized that in the last 25 years of its existence, the company might have graduated about one million graduates from its training facilities. Halogen is the first Nigerian private security company to be ISO certified in 2007, he hinted.
"Because our industry was changing, we realized that there was an urgent need to fulfil the capacity building gaps by developing people to become security professionals. This programme is in partnership with Babcock University and gives our students a blend of theoretical training during their studies", he explained.
Speaking on behalf of Babcock University, Professor Michael Onyedikachi Akpa, Deputy Provost, College of Post Graduate Studies, said graduates from Halogen School of Security Management & Technology (HSSM&T) should count themselves lucky for learning from the curriculum of a world class University and a security school established by an organization whose operation is benchmarked with global best practices. ''Partnership between Babcock University and Halogen Security is a very unique step towards building enviable capacity for the security sector in Nigeria. All the graduands should count themselves very lucky''.
In his contribution, the Lagos State Commandant of the Nigerian Security and Civil Defence Corps (NSCDC), Mr. Tajudeen Balogun described Halogen Security Company's efforts as commendable amongst other private security companies in the country. He pleaded with the graduands to hold Halogen School of Security Management & Technology's premium training with high esteem in their various places of practice. "We will be willing to be part of Halogen Security operation. Whenever we are called, we shall gladly honour it", Commandant Balogun noted.
CSP Veronica Akpa, Officer-In-Charge of the State-Investigation-Bureau (SIB), expressed happiness at the quality of security personnel being produced by Halogen School of Security Management & Technology. Akpa, encouraged the newly trained security experts to be vigilant always as security work is more about intelligence and thorough insight.
Chairman of Lagos branch of The Association of Licensed Private Security Practitioners of Nigeria (ALPSPN), Mr. Wilson Esangbedo gave kudos to management of Halogen Security Company Limited for raising the bar of security education curriculum in Nigeria. He said with the feat achieved by Halogen School of Security Management & Technology, the programme shall be the industry standard from now.
Earlier, the Chief Operating Officer of Halogen School of Security Management & Technology (HSSM&T), Dr. Wale Adeagbo had admonished graduands of the Diploma in Security Management course to brace up to the rising trends in technology and to apply the knowledge positively to what they have learned in the school as a way to creating unusual change in their industry and anywhere they find themselves.