PCNI Supports Returnee IDPs With Food, Non Food Items, BuildingMaterials To Resettle in Borno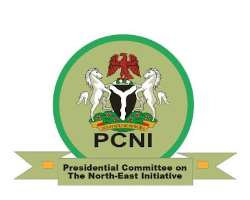 The Vice Chairman , Presidential Committee Initiative PCNI, Alhaji Tijani Tumsa has said that plans were underway to support the IDPs Returnees with food and non food items in a strategic manner for their smooth and convenient resettlement in their ancestral homes.
He also said that mechanism has been put in place to ensure Prudentiality and transparent distribution of the food and non food items to reach the IDPs and other targets to avoid diversion or sales as experiences in the last.
Tumsa who stated this Friday evening at an interactive session with Members of the NUJ Borno state Council at an NUJ Round Table Discussions with the Vice Chairman and some members of the NUI added that, federal, state and local movements, security agents, CSOs, community, religious, NGOs, CBOs and IDPs as well as other international humanitarian and development partners have been coopted into the IDPs Return Strategies and collaborations.
He said for IDPs returning to their ancestral homes in all the localities, plans were underway to ensure that the IDPs returned home and commence farming, fishing and their other occupations and livelihoods while disclosing that the Federal Training Center FTC Maiduguri's destroyed school premises have been reviewed and funds are being mobilized to support the school.
Tumsa said PCNI however has worked with partners to recover all public institutions including destroyed schools, hospitals, clinics, offices of LGCs among others, citing 42 public buildings in Bama LGA rehabilitated, 38 schools in Borno South renovated among others.
According to him, PCNI has further provided building materials to IDPs to rebuild their personal houses and it will be extended to other LGAs of the state and north east.
Although, he explained that PCNI does not directly carry out interventions but supporting and assisting those interested and involved as well as willing to assist and encourage them to do that and in case where they could, PCNI try to assist then carry out their interventions.
He also disclosed that as part of the mandate of the PCNI road networks projects will also be given considerable attention despite the fact that Maiduguri-Bama road has been under discussion with the sate government to be reconstructed while priorities on the plans to the road network have been clearly spelt out in the aims and objectives of PCNI including Maiduguri- Gamboru and Maiduguri-Mubi-Yiola as well as Maiduguri- Dikwa- Gamboru Ngala after the humanitarian Responses to the IDPs across the north east while collaborating with all the humanitarian and development partners.
The Vice Chairman noted that some of the challenges PCNI was confronted with include the challenges of time factor, funds and restrictions of movement by the security agencies among others.
He urged the media to support the activities of the committee and disseminate the activities of the PCNI to the public while calling on wealthy individuals and organizations as well as philanthropic and charity individuals and organizations to be involved in the interventions processes in the north east.