Impeaching Madumere Will Not Save Okorocha, Ihim From Going To Jail - Group
Insist Imo Speaker Must Resign Over N18 Million, Threaten To Bundle Him Out Of The House Within 48 Hours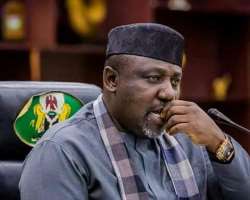 A civil society group has insisted that effort to remove the Deputy Governor of Imo State, Prince Eze Madumere on spurious ground will not save Governor Rochas Okorocha of Imo State and his accomplice, Mr. Acho Ihim from going to jail over what they described as worst fraud ever committed against Imo State.
A group under the aegis of Coalition for Governance through its Publicity Secretary, Mr Thomas Ejiogu made the staggering assertion in Owerri during a press briefing tagged, " Save Imo from rudderless politicians."
Mr. Ejiogu wandered how a man of questionable character like Ihim should ever be considered for the highly exalted position of a Speaker of Imo parliament when his hands are soaked with blood and filth occasioned by his shameful engagements both with alleged inappropriate and diabolic dealings with Imo children that led to the death of 43 under the guise of special center. He also accused Mr. Ihim of defrauding Okigwe local government area of N18 million by impersonation.
He attributed Ihim's choice for Speaker of Imo parliament because they are birds of the same feather and since Ihim is already soiled by his alleged evil deeds, he only exists at the mercy of Okorocha.
His words: "We have watched with kin interest how rudderless and clueless politicians like Okorocha and Ihim have continued to under-develop the State through their unholy partnership. We were taken aback by Ihim's emergence as the Speaker of the House even when he has a moral burden to question the actions of the Governor."
The group called for the resignation of Chief Ihim as the Speaker of Imo State House of Assembly or they will be left with no option than to mobilize Imo people to ensure that he is booted out of the office. Mr. Ejiogu assured of their resolve to expose other inhuman activities of Ihim in collusion with Governor Okorocha.
Meanwhile, Mr. Ihim is said to be standing trial over N18 million fraud against the local government council by impersonating as the HOD works of the local government council with other criminal charges as he is also explaining the death of 43 students who were mysteriously killed under the guise of a special center, which in itself is a crime for encouraging and abating examination malpractices, which attracts about 20 years imprisonment.
It will be recalled that one of the gubernatorial aspirants, Barr. Uche Onyeagocha had made staggering revelation of Okorocha's pillaging of the State thereby maintaining that he should go and sow his prison uniform.