Re-electing Buhari could plunge Nigeria into war, Jerry Gana warns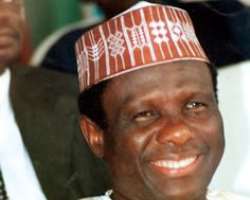 A former Minister of Information and presidential aspirant on the platform of the Social Democratic Party (SDP), Prof Jerry Gana, has warned that re-electing President Muhammadu Buhari in 2019 will be a grave mistake that could plunge the country into war.
Gana who made the claim on Thursday in Abuja while officially declaring his interest to run for the Presidency, said the level of crippling uncertainty everywhere in the country was saddening.
"Being a patriotic and committed democrat, who has carried a burden for the rapid development of our far nation for decades, I am deeply concerned at the very real prospect of Nigeria imploding unless our great party comes to the rescue with a God fearing, dynamic, untainted and credible leadership," Gana said.
"Nigeria is facing an existential threat, the seriousness and proportion of which have never been witnessed since the end of the war.