Dangote: the travails of the only rich man in a village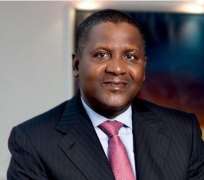 I always take delight in the words of our elders which convey pure wisdom and address issues that were yet to occur when they were coined. Our people say that the only rich man in any community is in trouble and indeed, VERY POOR. I was not there when our people manufactured this adage but having become an elder myself, I have imagined what would have led to this weighty proverb. The lone rich man is in trouble because he is so busy attending to numerous villagers that he is distracted from his business. The goodies he doles to his kinsmen also eat deep into his surpluses and because of these two consequences, his business suffers. He also attracts enmity, jealousy and conspiracy because he is unable to satisfy everybody or satisfy them as they would want while some would wonder: why not me. On the other hand, the community also suffers because everybody stops making efforts, while the community fails to develop its collective capabilities and resources because it can always rely on the bigman. More so, because the people believe that his resources are limitless, their expectations keep on leapfrogging and at a certain stage they even wonder why the bigmanwould not adopt a red-cross model and just help everybody without waiting to be begged. The community's problems become worse if the bigman throws his weight about, develops an above the law mentality or suffers from Arik syndrome( Arik started acting with impunity because it held the aviation industry by the throat; though, not anymore!)
I don't know how to say it but most often, my business involves minding other peoples' businesses. I have scanned the media, in the recent past and I have come to the unequivocal conclusion that the above scenario reflects the fate of Alhaji Aliko Dangote-AAD;( the man, his foundation and his awesome, diverse business interests), who is currently Africa's biggest big man and the second most influential black man in the world. If not because of my self-effacement tendencies, I would have challenged both rankings because the rankers never assessed my net-worth nor my powerful-ness which I believe will compete favourably with AAD. But since he is my friend, I will let him be because I don't want to lose friends over such minor issues.
Back to the issue at stake, this is the current reality in Nigeria. The solution of every economic and even social issue of the day in Nigeria( community) depends on or awaits the attention of AAD( the only rich man). These include perennial petroleum scarcity and power insufficiency, food insecurity, frightening level of unemployment, conservation of foreign exchange and the weight of the Naira, low industrialization index, horrible road network, poor quality of education and the oil-dependent nature of the economy. So pervasive is his involvement in these issues that I wonder if Nigeria needs an economic management team.
AADs $4.5bn agricultural project spread over 5 states, the $800m dairy farm of 50000 cows and 500m litres of milk by 2019, the $20m tomato factory in Kano aimed at checkmating the Chinese and the agreement with OCP Group of Morocco on fertiliser production would create more than 250000 jobs, diversify the economy, alleviate poverty and reduce the nation's import bill, make Nigeria the largest rice exporter in the world by 2021 enhance food security,address rural urban drift and crash the price of fertilizer sold to farmers.
AAD's refinery and petrochemical complex ( largest in Africa) with 650,000 BPD capacity, will end fuel scarcity, create 235000 and yield $500m in taxes within 3 years. The Peugeot factory acquired in conjunction with some states and the truck assembly plant in association with Sino Truck, both for domestic use and export will also diversity the economy, create jobs and conserve forex. Nigeria has already attained self-sufficiency in cement production courtesy same Dangote,, who is also involved in the construction of Apapa Ports access roads and the 45kms Obajana-Kaba road, using his concrete model, which Fashola described as the way we should continue to build, going forward, in exchange for some tax remissions, which he also said is like credit advance to government. AAD Sugar Refinery, will generate 100000 jobs and ensure sugar self-sufficiency while he has just taken over the Kastina Songhai project abandoned 6 years ago. He has commitedN200bn for a unique university in Abuja, has donated a business school to the university in Kano and is funding an Education for Employment center in Abia state , demonstrating commitment to human capital development. He has commenced a $150m solar power project in Kano and built a N2bn integrated Dangote village for IDPs in Maiduguri. According to NEITI report, AAD contributed 56%(N16bn) of FGN tax from solid minerals for in 2013 and paid N5bn premium to insurers in 2016. In addition to operationally solving all the prroblems of Nigeria, he is also generating ideas as a member of the Nigerian Industrial Policy and Competitiveness Advisory Council
I should not have bothered recounting all this because AAD has severally said so himself but I do not want to be accused of plagiarism. Check out his speeches at the Guardian 2015 Man of the Year award, Nigerian Economic Summit, Kastina Economic & Investment Summit, Nigerian-Kenya business summit, when the VP visited his refinery and at the corporate Council for Africa event. In all these, he declared his commitment to turning around and diversifying the economy, working hard to take the economy to the next level, building a refinery that is higher than the combined capacity of all refineries, a fertilizer capacity that is ten times more than what is available in Nigeria today, generate 12000MW, more than thrice what Nigeria currently generates and export refined oil rather than importing and creating Jobs elsewhere, list his refinery et al on the NSE and help NSE to outgrow Johannesburg Stock Exchange and how the rate of youth unemployment in Nigeria gives him sleepless Nights( a statement even our PMB has not made), assuring that Nigeria( and Africa) would soon become the world's food basket. AAD has said and continues to say the right and heart-warming things. Unfortunately however, these are the kinds of statements that should emanate from Kemi Adeosun, Godwin Emefiele, Udo Udoma whoever is the chairman of the EMT, and in sane climes, from the president himself.
So, like the only rich man in the village, AAD has taken on all the responsibilities. Already other villagers are grumbling: Ogun State governor complains that Dangote trucks destroy the roads; Ndigbo say the only Dangote investments in ala-Igbo are deaths and traffic jam by his reckless drivers and his trucks; the FCT in 2016 rejected his Salah gifts; some people complain that he cornered an unfair share of our forex, enjoy great tax waivers, is becoming monopolistic and is muscling out other players, citing his spat with Otedola, Ibeto and BUA. Our only luck so far is that Dangote does not overtly throw his weight about. If he were to behave as some of his drivers….
The Federal Government, on the other hand is lying low and idling around as AAD undertakes its numerous responsibilities, being his greatest cheerleader and praying that AAD lives long to solve all our socio-economic problems( as PMB did on his 60th BD). Shamefully , rather than do SOMETHING about our pitiable petroleum situations, Ibe kachikwu publicly begged AAD to finish his refinery ahead of schedule because the Government promise to end fuel importation in2019 was based on the refinery! Just imagine that: The Government makes a promise to Nigerians and depends on AAD to fulfill the promise! Even Oxfam recently urged AAD and 4 others to use their wealth to end poverty in Nigeria.
The government, representing the Nigerian village, enjoys the positive externalities from the bigman, without thinking what if! What if AAD wobbles, or goes to bed and does not wake up early enough? What if a strategic shift occurs in the organization or if future Dangotarians are not as cool-headed and Nigeria-centric as AAD? The other day, AAD closed his $20m tomato factory and his Tanzanian $500m Cement factory, which cost $4m to power monthly. The health of the Nigerian stock market depends on whether the prices of AAD stocks are rising or falling. What has the Government done to create other AADs? Where are the other bigmen in Nigeria, including those whose kids party across the globe on a regular basis? Why can't they stand up and be counted? What is the EMT doing if AAD addresses the challenges of unemployment, diversification, food security, forex conservation, power generation and road construction? Should we not outsource economic governance to him while the presidency manages politrics, revenue sharing and makes excuses for the foreign herdsmen. Or more charitably, why not send Osinbajo and the EMT on sabbatical to AAD. Furthermore, given the strategic importance of AAD to the fate and fortunes of Nigeria, shouldn't the government purchase a key-man insurance cover on the man?
Meanwhile, I urgently need a Dangote sticker for my rickety car. Travelling from Lagos to the East has suddenly become herculean and I strongly believe that a Dangote sticker will clear the way for the son of man. As I was concluding this piece, I received the news that a townsman, Law Onyemelukwe of Lafenax Ltd was named the overall best customer of Dangote cement for 2017! So, I am vicariously among those enjoying the AAD Effect, at least I can brag: my townsman is AAD's best customer! That may even get me through the police, customs, FRSC, Civil Defense and other unclassified checkpoints when next I travel along Lagos-Onitsha route. But I will also petition the Federal Character Commission to investigate the 2017 AAD awards: the names of the top prize winners ( Onyemelukwe, Okika and Ezenyili) did not reflect federal character!
Ik Muo, PhD; writes from Department of Business Administration, OOU, Ago Iwoye