NYSC reacts to Adeosun's NYSC certificate controversy, vows to investigate the matter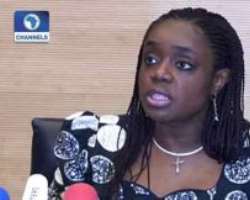 The National Youth Service Corps (NYSC) has waded into the controversy of a forged certificate of exemption allegedly used by the Minister of Finance, Mrs Kemi Adeosun.
In a statement on Monday by its Director of Press and Public Relations, Mrs Adeyemi Adenike, NYSC confirmed that the minister applied for an exemption certificate.
It also vowed to investigate the source of the purported forged certificate.
The statement read, "Our attention has been drawn to the issue of the alleged forgery of an NYSC Exemption Certificate by the Honorable Minister of Finance, Mrs Kemi Adeosun.
"Checking our records, Mrs Adeosun did apply for an Exemption Certificate.
"We shall investigate the origin of the purported Exemption Certificate in question."
A recent report which went viral had claimed that Mrs Adeosun failed to participate in the mandatory national youth service and supposedly obtained a fake exemption certificate.
The one-year service is a compulsory scheme for all Nigerian graduates who have not attained the age of 30.
However, the minister has yet to respond to the allegations.
Mrs Adeosun had served as the Commissioner of Finance in Ogun State between 2011 and 2015, during the first term of Governor Ibikunle Amosun.
She later joined President Muhammadu Buhari's cabinet as the Minister of Finance later in 2015.
Credit: Channels Tv