R-APC will not cause any problems for APC: Oshiomhole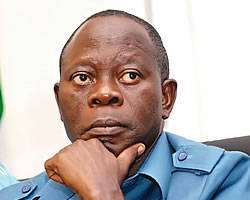 The National Chairman of the All Progressives Congress (APC), Adams Oshiomhole, has said that the party will not be distracted by the emergence of a faction of the party.
Oshiomhole stated this on Thursday after meeting with some APC lawmakers, including the Speaker of the House of Representatives, Yakubu Dogara, at the National Assembly.
As far as the former Edo State Governor is concerned those behind the faction – Reformed All Progressives Congress (R-APC) were sponsored and had hoped that the APC national convention – held on June 23 – would fail.
He said, "You have people who are being sponsored by those who thought that our convention would be a failure and they were expecting an implosion; if you review the headlines, there were stories of people walking out (of the convention).
"If after two weeks of wrangling in pains, they have been disappointed, you find machinery of people who are willing to be hired for a purpose. It is their right to be so hired but it will not cause any distraction."
Despite dismissing the R-APC, Oshiomhole promised that the APC under his leadership would carry on engaging other members of the party to ensure it is united ahead of the 2019 general elections.
"We are engaging the real stakeholders between the executives and the two arms of the National Assembly," he said.
Oshiomhole's comments come 24 hours after a faction, the Reformed All Progressives Congress (R-APC) emerged with Buba Galadima appointed as the Chairman.
The new faction is made up of aggrieved members of the APC, mostly from the National Assembly, who accused President Muhammadu Buhari and some leaders of the ruling party of usurping the leadership of the party.
Chairman of R-APC, Mr Buba Galadima, made the allegation on Thursday during his appearance on Channels Television's Sunrise Daily
"We are the mainstream APC," Galadima said of his group, adding, "We are claiming that we are the authentic leaders of the party and not usurpers who have just come in and use their position and influence to get themselves announced as leaders."