Delta 2019: House Of Assembly Aspirant Vow To Make Impactful Laws If Elected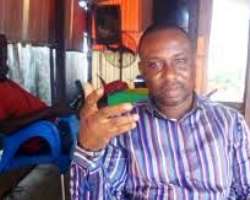 As the federal and state governments diversifies their economy into agriculture due to crash in oil price, a foremost aspirant for Isoko South Constituency II in the Delta State House of Assembly (DTHA), Barr. Irogbo Afokeoghene, has said that he would propose extant laws that would enhance agriculture and economic well-being of his people if elected.
Afokeoghene, a legal luminary based in Asaba, stated this while fielding questions from newsmen on why he was in the race, noting that he would want to be part of lawmakers who would make excellent laws that would influence the lives of his people.
The legal icon who is aspiring under the auspices of the People's Democratic Party (PDP), said that as a lawyer he has always wanted to use his profession to further position his people by being a voice to them as he is fully prepared to do so.
"I want to partake in making quality laws that will impact in the lives of our people. They are predominantly farmers and apart from one ward which is Olomoro, all the other wards in my constituency are rural in designation.
"It is only Olomoro that is an urban area. The activities in that area are oil exploration and exploitation and farming, I will want to make laws that will stimulate our agricultural activities in that constituency, making good laws for our people so that the impact of government will be better felt".
While saying that he would not castigate others in a bid to winning the miss of his people, he said that his relationship with them and what he has been able to achieve at the communal level would speak for him.
He eulogized the incumbent, Hon. Johnson Erijo, for his versatile knowledge and his consummate legislature, stressing that he has been there for considerable time and is vast in the area of law making.
"I must give that to him but somehow, he has decided not to run this time around and I have consulted with him and he told me categorically that he is not running for that office any longer, perhaps he wants to move higher or go to other areas of human endeavor to further his political life", he said.
He expressed absolute confidence in the ability of the PDP to winning all the office in Delta State come 2019 general elections. He thereby, called on the delegates for the primaries to consider him as he promised not to disappoint his people.