Apc Convention: Isopadec Comm. John Uba Commends Okorocha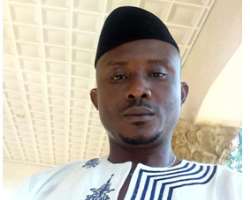 Hon. Ubah John Onyewuchi , a board member, Imo State Oil Producing Areas Development Commission (ISOPADEC), and Commissioner in charge of Youths and community matters in the commission, has commended the steadfastness of governor Rochas Okorocha and other Imo Rescue Mission supporters for ensuring victory for Imo Apc during the National Convention of the party in Abuja.
Hon John Ubah stated this in Abuja last week after the announcement of the results of All Progressive Congress convention. He stressed that before some persons who don't really understands the political development in Nigeria and political sagacity of Owella Rochas Okorocha was speaking against the governor and his supporters for joining the Apc during the formation of APC but now the same party they rejected is what they are struggling to occupy vital positions. He advised the people to remember the past and the commitment of Rochas Okorocha's political struggle that brought Imo to the nation's ruling party.
He stressed that Oguta and Ohaji/Egbema youths will always support Owella Rochas Okorocha and his Rescue Mission government.
The ISOPADEC Commissioner opined that governor Okorocha is the only governor in recent past that actually brought the Youths of Oguta, Ohaji Egbema and Imo in general to the mainstream and limelight through appointments, empowerment and other development projects scattered across the state.
He regretably stated that before Governor Rochas Okorocha's administration, youths were used to win elections and later dumped and rejected after the elections. That same old people rotates political positions among themselves. He said since change has come to stay, such people should accept the political development in good fate and work for the benefit and development of Imo state instead of becoming arm-chair critics of a better administration.
Hon Ubah John urged the people of Oguta and Ohaji/Egbema LGAs to come out in their numbers to vote for Apc candidates for the coming local government elections in Imo. He assured that ISOPADEC will soon commerce the execution of her developmental projects across Oguta and Ohaji/Egbeme LGAs