Umahism: Sustaining Food Security Through School Agricultural Programme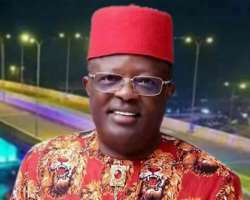 The inauguration of Apostle David Nweze Umahi as the third democratically elected Governor of Ebonyi state on 29th May, 2015 coincided with the onset of the most inclement economic weather in the history of Ebonyi state, nay Nigeria. While that economic crisis forced many state governments and even the Federal Government into administrative coma, a few states managed to maintain a vegetative administrative existence. In the midst of this desert of disillusionment that Nigeria became, an ingenious and resourceful manager of public trust created a seminal oasis of good governance which gave hope and demonstrated in practical terms that the economic crisis could be solved through intrinsic and autochthonous methods of economic rediscovery. That man is Governor David Nweze Umahi of Ebonyi State, a man who fully trained and was prepared for governance before he assumed leadership of Ebonyi State.
Thinking outside the box, Umahi blocked all the many channels of financial leakages and through frugal management of the resources of young Ebonyi state, he built solid infrastructure which included three modern overhead bridges, a pedestrian overhead bridge; the entire Abakaliki urban road network, Onueke, Uburu and Afikpo internal roads, Hiltop-Nwofe Agbaja road, a minimum of 15 kilometer road in the 13 council areas in the state and intervened in the reconstruction of federal roads in Ebonyi state with a total distance of 54.5 kilometers. All these roads were done on rigid pavement! Umahi imbued his administration with a 'human face' through constant payment of salaries as well as annual bonuses known as 13th month salaries to Ebonyi workers. He equally empowered over ten thousand Ebonyi men, youths, women and widows in a positively unprecedented manner through free distribution of over 140 jeeps, 400 tricycles, funds ranging from one hundred thousand naira to one million naira et cetera. Other sectors like education, industrial development, environment, water, sports, urban renewal, housing, power and security equally received generational attention from the dynamic Ebonyi Governor.
While Umahi built a new Ebonyi state, he was equally concerned with growing an alternative economic base in the face of the waning petro-economy which is expected to end in 2040 when solar automobiles are expected to dominate the market. An alternative economic base was needed to make the brand new Ebonyi state which Umahi has built sustainable. Proactive Umahi settled for agriculture, a sector in which Ebonyi state has the highest comparative advantage. Umahi launched an Agricultural revolution programme with bias for rice farming. That the Agricultural revolution programme otherwise known as "one man, one hectare" farming programme has succeeded is evinced by the concensus and enthusiastic acceptance the programme has continued to enjoy from both the elite and the masses of Ebonyi state, the palpable food security in Ebonyi state, the popularity and preference of Ebonyi rice in national and international menus, the unpretentious encomia the programme has earned Umahi from both the All Progressive Congress-led Federal Government of Nigeria and the International community.
For high-flying Governor Umahi whose involvement in governance is predicated upon his unbridled desire to take Ebonyi state and her people to the brim of excellence, no programme can be said to be successful until a sustenance plan is effectively established for it. Proactive Umahi stretched his Agricultural revolution into the future by involving Ebonyi teenagers who are the perpetual owners of tomorrow in it through the School Agricultural Programme launched in Ebonyi state on Monday 25th September, 2017. This first-of-its-kind programme in Nigeria is aimed at making agriculture attractive to teenagers as well as involving them in gainful practical farming in order to make them see the feasibility, benefits and potency of agriculture as a means of wealth creation. Through the programme, revolving Agricultural funds were provided for the 31 pilot schools in Ebonyi state to enable them run school farms. Prof. Adaeze Nwuzor, a distinguished professor of Agricultural Extension and Senior Special Assistant to the Governor of Ebonyi state, is the Chairman of Ebonyi State Schools Agricultural Programme, ESAP. With dependable Senior Technical Assistants and Technical Assistants to the Governor of Ebonyi state on Agriculture as her leutenants, Prof. Nwuzor keeps the schools on their toes through steady supervision and surveillance. In a recent appraisal tour of the pilot schools in the length and breath of Ebonyi state, the vegetables, crops, poultry and livestock in the respective farms of the schools constituted tangible, visible, audible and incontrovertible evidences of the successes recorded by the programme. The programme has humongous benefits for all the critical stakeholders of the school system and even the society at large. For example, the students conquer their negative phobia against farming, gain practical experiences on modern methods of farming, feed better on the natural healthy yields of their farm and are equipped with farming skills to enable them become self-reliant agro-wealth and job creators upon graduation; the teachers have the opportunity of buying fresh farm produces from the school at highly subsidized rates; the parents are relieved of financial burdens as feeding fees of their ward have been further reduced due to the benefits of the school farms and the quantum of funds spent on the health of students have drastically reduced due to improved health of students arising from improved feeding. The society at large equally benefits from Ebonyi State Schools Agricultural Programme because the bountiful yields of the school farms are taken to them at affordable prices in the open market!
In a colloquim convoked at the Multi-purpose Hall, Government House, Abakaliki by Prof. Adaeze Nwuzor on 7th May 2018, to analyze the progress and problems of Ebonyi State Schools Agricultural Programme, students, Parents, Teachers, School Principals, Senior Technical Assistants and Technical Assistants to the Governor of Ebonyi state on Agriculture as well as press men were invited. Prof. Nwuzor extolled Governor Umahi's proactive efforts to develop an alternative agro-economic base for Ebonyi state in the face of the dwindling oil economy. She encourage the participants in the colloquim to bare their mind on the School Agriculture Programme so far and to bare their minds on the progress and problems of the programme so that solutions will be worked for whatever problems they have to ensure that the lofty objectives of the Governor in establishing the programme is achieved. She charged the students to get involved in the programme stating that apart from the immediate gains of providing healthy and subsidized feeding in school, the programme would hasten the students' quest for self reliance.
Students gave testimonies of exciting farming experiences, improved feeding and improved disposition to farm work; parents spoke of improved health of their wards, reduction of the feeding allowances of their words while teachers expressed joy over the simplification of their lessons through practical Agricultural experiences offered by Ebonyi State Schools Agricultural Programme. There were also reports that trade unions use discrimatory trade tactics against the schools whenever the schools bring their produce to the market for sale. Prof. Adaeze Nwuzor promised to liaise with the trade unions to put an end to such discrimination insisting that a beautiful and visionary programme such as this one designed by Governor David Nweze Umahi in his avowed bid to sustain food security and help Ebonyi people and the youths conquer their tomorrow by creating an alternative economic base must be encouraged by everyone.
From the foregoing, it is certain that Governor Umahi's Agricultural Revolution in Ebinyi State and indeed food security in Ebonyi state is sustainable through the Ebonyi State Schools Agricultural Programme. Again, the Federal Government and other State Governments are invited to copy this unique programme in our quest as nation for sustainable food security.