Nigeria and the Poverty debate
Nigeria has become a spectacle of negative narratives.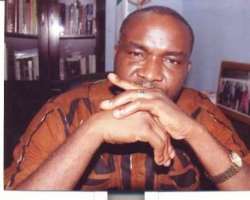 Not over 24 hours ago when the fuel laden tanker caught fire and engulfed several cars killing scores of commuters in Lagos, a friend from the United States of America contacted me to find out why Nigeria has become a cesspool of all the negative indices.
The caller reminded me that in this same June of 2018, over 200 villagers were slaughtered in Barkin Ladi near Jos, in plateau state, by armed Fulani herdsmen.
The caller then reminded me that a 15 year old school girl Miss Liah Sharibu is still been held by boko haram terrorists since two months after nearly 100 school girls from Dapchi in Yobe State were snatched away from their school even with the pretentious heavy security by armed soldiers and police. This young Christian was left behind by President Muhammadu Buhari's government which negotiated the release of other girls who are all Moslems and these other hostages were conveyed back home by armed boko haram terrorists amidst cheers and encomiums by villagers.
The friend from the United States then reminded me that a British Broadcasting Service news recently alleged that the Nigerian Army troops were suddenly recalled and asked to retreat in Sambisa forests when they were at the verge of killing or capturing Alhaji Abubakar Shekau, the reclusive leader of the blood thirsty boko haram terrorists.
The Lagos fire disaster for this caller was just the icing in the cake to demonstrate that Nigeria is not just badly administered but that the total lack of leadership competences amongst the ruling political class has started to take dangerous tolls on the lives of Nigerians.
I then interjected by reminding my concerned American caller that Nigeria has also become the nation with the largest concentration of poor human beings and that this unpalatable rating makes us the worst even making us occupy a position of global opprobrium and infamy far worst than India that used to be the nation with the highest poverty stricken people Worldwide.
Look at it this way: Nigeria has less than 40 percent of India's population of over a billion people even with the heavily doctored census figure of 160 million, Nigeria is still far behind India but sadly, we now have the largest number of poor human beings in the World.
The most annoying fact is that Nigeria has a notoriously and criminally manipulated statistics given that the National Bureau of statistic that ought to be professionally administered has been hijacked by politicians with scant regards to professional code and ethics so can easily manipulate statistics to curry favours from the appointing political authority.
The National Bureau of statistics and the National Census Commission have therefore become very unreliable for students of statistics therefore compelling researchers to look towards external statisticians for reliable data on Nigeria.
This is why the current poverty rating of Nigeria is disconcerting and has engineered palpable fears.
It is not as if most Nigerians are unaware of the enormity or gravity of poverty situation in Nigeria because almost every household in Nigeria must be confronting the demon of poverty amongst some of her members.
Nigeria as the nation with the largest concentration of blacks globally, is deeply involved in the African traditional family system of extended relationship so every family knows the economic status of her members.
With the heavy presence of African traditional values including extended family units, it is easier for members of each family to be able to reach a determination of how poverty is affecting any of their members.
It is therefore much more easier for genuine statisticians to conduct scientific verification of real data regarding poverty. But the local statisticians affiliated with the Nigerian government are playing politics.
A whole lot of statistical data on poverty in Nigeria have been circulated in the past in both official and unofficial quarters with a recent frightening version that told us that there are over 100 million poor households in Nigeria.
It is as a result of the apprehension created by the realization that poverty has inflicted heavy economic damage on Nigerians that successive administrations have implemented one pro-poor policy or the other. Also wives of governors use the excuse of fighting mass poverty to extort money heavily from local contractors just for self-enrichment whereas poverty has continued to grow amongst their people.
The immediate past administration of Goodluck Jonathan implemented several of such policies. Olusegun Obasanjo set up NATIONAL Poverty eradication programme but without legal frameworks this body disappeared as soon as another administration came on board. There is also the National Directorate of Employment. All these institutions that have become embroiled in bureaucratic bottlenecks were set up in the first instance because poverty of the extreme specie has become hydraheaded in Nigeria.
The current government is also implementing the conditional cash transfer to some poor homes. Infact, Muhammadu Buhari appointed a special Adviser who is in charge of free school feeding programme that is embroiled in alleged widespread corruption.
So why is the current government doubting the veracity of the statistical nightmare of the extent of poverty in Nigeria?
If poverty is not so much of a problem, why is the government spreading the propaganda of feeding school children.
Dr Dan Mou is a top bureaucrat in government and has recently written a big book to state clearly that millions of Nigerians are afflicted by poverty.
In one of his major scholarly works titled: "National Security, democracy and good governance in Post-Military Rule Nigeria", Dr Dan Mou went as far as recommending the establishment of a national empowerment and inclusive growth commission to take care of seventy percent of Nigerians still in mass poverty, excluded from enjoying dividends of democracy and development in their own country.
It therefore follows, that the government of president Muhammadu Buhari should stop living in denial and realize that poverty has ballooned out of control and also initiate practical measures to curb the expanding frontiers of poverty which is a menace afflicting a clear majority of Nigerians who are the owners of the sovereignty of Nigeria. Poverty spreads because of corruption amongst political office holders. Poverty is widespread because government spends 70 percent of annual budget to service huge wage bills of political office holders and spends a fraction building infrastructure. Poverty spreads due to lack of respect for the rule of law and human rights. Poverty spreads due to absence of good governance and lack of transparency and accountability in government. Poverty spreads when government can't check the widespread violence unleashed on farmers who are the major producers of agricultural produce that feeds the nation. Poverty spreads when boko haram terrorists destroys farmlands and homelands of millions of farmers in the North East of Nigeria and the money budgeted for reconstructing those places are stolen by top government officials. So the Government must yell herself the truth and take action to check the expansion of poverty.
The report that Nigeria has overtaken India as the country with the largest number of extreme poor as of 2018 as issued by the Washington-based Brookings Institution is empirically accurate and factually correct and must not be belittled by politics.
The report titled, 'The Start of a New Poverty Narrative,' obtained on the institution's website, pointed out that the Democratic Republic of the Congo could soon take over the number two spot.
It said, "At the end of May 2018, our trajectories suggest that Nigeria had about 87 million people in extreme poverty, compared with India's 73 million. What is more, extreme poverty in Nigeria is growing by six people every minute, while poverty in India continues to fall.
"In fact, by the end of 2018 in Africa as a whole, there will probably be about 3.2 million more people living in extreme poverty than there are today. Already, Africans account for about two-thirds of the world's extreme poor.
"If current trends persist, they will account for nine-tenths by 2030. Fourteen out of 18 countries in the world—where the number of extreme poor is rising—are in Africa."
It noted that between January 1, 2016, when implementation of internationally agreed Sustainable Development Goals (SDGs) started, and July 2018, the world had seen about 83 million people escape extreme poverty.
However, it noted that if extreme poverty were to fall to zero by 2030, "We should have already reduced the number by about 120 million, just assuming a linear trajectory."
According to the Brookings Institution, given a starting point of about 725 million people in extreme poverty at the beginning of 2016, there was need to reduce poverty by 1.5 people every second to achieve the SDGs, "and yet we've been moving at a pace of only 1.1 people per second."
"Given that we've fallen behind so much, the new target rate has just increased to 1.6 people per second through 2030. At the same time, because so many countries are falling behind, the actual pace of poverty reduction is starting to slow down. Our projections show that by 2020, the pace could fall to 0.9 people per second, and to 0.5 people per second by 2022.
"As we fall further behind the target pace, the task of ending extreme poverty by 2030 is becoming inexorably harder because we are running out of time. We should celebrate our achievements, but increasingly sound the alarm that not enough is being done, especially in Africa," it added.
The hasty response by the current government dismissing this well thought out report of the real life situation is therefore scandalous.
Is the government of Nigeria operating in a wilderness of loneliness whereby the members of the ruling class are alienated from the realities of most Nigerians and their daily encounter with poverty?
Is it because for instance, the presidency budgeted over N90 million to be used to cut the hairs of president Buhari this year that it does not know that N90 million can build two standard world class schools for the poor anywhere in Nigeria? Is it because President Muhammadu Buhari spent 103 days and another one week in a London hospital at huge public expenses that it is not sensitive enough to note that poverty is a major issue in Nigeria?
The minister of Trade and Commerce Mr. Okechukwu Enalamah who spoke tongue -in -cheek must know that even in his Abia state of origin, that poverty is real even in his own family.
Hear him: "The latest Brookings Institute's rating of Nigeria as the headquarters of poverty in the world should not border Nigerians because the report may have been compiled when the nation was in economic recess".
In his unsophisticated sophistry, the minister of Trade and Investment said also as follows: "We need to understand when we get these reports that there are reports that are lagging in indicators which means, people are reporting on history. There are reports that are leading indicators, which means that they are forward looking and, of course, there are reports that capture generally what you do which is current. "
He continued his illogicality thus: "They are actually dealing with what is current. So, when you get reports from Brooking Institutes or all sorts of people, you need to look at the context. Somebody may have written a report when we were in recession. Remember that if you are in a recession, what it means is that even though your population is growing, people don't stop procreating, which means that in theory, depending on how they run those numbers, you will be going the other way," says the Minister.
The Federal government must be told in black and white that for millions of poor Nigerians, there is no difference between when Nigeria was said to be in recession and after the recession (if indeed it has ended) since most people are still in absolute poverty.
Millions of Nigerians are still in absolute poverty.
Extreme/absolute poverty is the situation where even the selected minimum consumption requirements are not met.
The UN has defined extreme poverty as a "condition characterized by severe deprivation of basic human needs, including food, safe drinking water, sanitation facilities, health, shelter, education and information. It depends not only on income but also on access to services."
The World Bank is the global institution dedicated for fighting poverty ( www.indianecomomy.net ).
The World Bank has developed several attempts to measure and compare poverty levels across countries. One such tool is its international poverty line which is expressed as dollar earnings per day that can meet minimum consumption requirements in all countries.
The Bank's extreme poverty is now emerged as the international scale to measure poverty globally and to make comparisons among countries.
In 2015, World Bank upgraded its extreme poverty line by increasing the income requirements.
As per the World Bank's latest poverty measurement methodology, international extreme poverty line is US$1.90 (2011 purchasing power parity [PPP] U.S. dollars) per individual per day.
Previously this extreme poverty line was earning of $1.25 a day, at 2005 international prices.
As per the new estimate, the World Bank estimates that less than 10% of the world's population live under its new threshold of $1.90 a day.
"There occurred a dramatic fall from more than 1 billion population in extreme poverty in 2011, when the poverty line was $1.25 (measured in 2005 US dollars). Following are the main global poverty trends: In 2013, 10.7 percent of the world's population lived on less than US$1.90 a day, compared to 12.4 percent in 2012. That's down from 35 percent in 1990", so wrote Tojo Jose.
In 2013, 767 million people lived on less than $1.90 a day, down from 881 million in 2012 and 1.85 billion in 1990.
Half of the world's poor live in Sub-Saharan Africa and a third in South Asia.
A report from World Bank says that inequality is the biggest threat for realizing poverty reduction. 'Hence we need Poverty and Shared Prosperity'. Bringing shared prosperity of the bottom 40 percent of populations in every country is the best way to eliminate poverty."
Will President Muhammadu Buhari and his officials accept the reality of our situation and reduce the huge wage bills that go into servicing salaries of political office holders and bridge the income gaps and also practice equality of rights? Only time will tell.
* Emmanuel Onwubiko heads the Human Rights Writers Association of Nigeria (HURIWA) and blogs @ www.emmanuelonwubiko.com ; www.huriwanigeria.com ; www.huriwa.blogspot.com .
Disclaimer:

"The views/contents expressed in this article are the sole responsibility of the author(s) and do not necessarily reflect those of The Nigerian Voice. The Nigerian Voice will not be responsible or liable for any inaccurate or incorrect statements contained in this article."