Avail Your Wards Of Polio Vaccination, Delta Government Urges Parents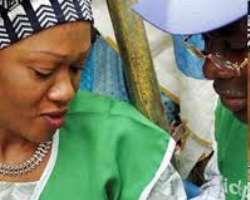 Since 2016,Nigeria has not recorded any more case of wild polio disease. This must be sustained to keep the country free of the disease. Polio eradication is a must to do task requiring the cooperation, commitment and involvement of every government, organization, community, family and individual, Chairman, Delta State Primary Healthcare Development Agency, Dr Isioma Okobah, has said.
She stated this yesterday at a press conference in Asaba, in continuation of the second round of the National Immunization Plus Days (NIPDs) vaccination against Poliomyelitis which kick starts from 30 June to 3rd July 2018.
According to her, "Nigeria prescribes routine immunization for infants, 4 doses of OPV given at birth at 6, 10 and 14 weeks of age plus IPV at 14 weeks and mass vaccination for under 5 year old with Oral Polio Vaccine. The EPI/NPI strategies have effectively reduced the incidences, morbidity and mortality associated with polio diseases".
She disclosed that health workers would be stationed at Health Post, move from House to House, Churches, Mosques, Schools and special places/events for vaccination of 'Under 5 year old children', stressing that "vaccination is safe and free of charge".
In her words: "Poliomyelitis is a viral disease caused by the Polio virus that belongs to the family Picornaviridae. There are 3 types of the wild virus, the virus is transmitted from person to person through the feco-oral route", revealing that it has about 7-21 days of incubation period.
She stressed that the virus has infinity for the anterior root neurons of the spinal cord that controls movement, "this is often unilateral in nature but could be bilateral occasionally. It could affect respiratory nerves", she hinted.
She unearth that it destroys neuron/nerves resulting in wasting and loss of muscle tone and loss of ability to move in affected sites, pointing out that fever, malaise, anorexia are some of the signs and symptoms with vomiting in children.
"Index of suspicion of polio disease is sudden loss of movement in affected individual noticed by floppiness of the limb (flaccid paralysis). The paralysis is residual for some patients (significant) though many may recover fully. People especially children still die of polio due to respiratory paralysis".
While calling on parents/guardians to bring out their children/wards for the vaccine, she revealed that the state achieved 101 per cent vaccination coverage for under 5 in the first round of the NIPDs for 2018, "come and support a polio free Delta State", she added.