Shettima Distributes 270 Tractors to 27 LGCs of Borno
As He Launch 2018 Farming Season in Gubio Town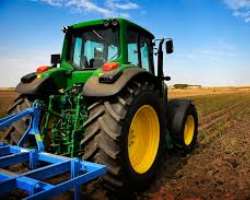 Borno State Government has launched 2018 farming season with the distribution of 270 brand new tractors to the 27 LGCs of the state Thursday in Gubio town of Gubio LGA of Borno state.
The launching which was flagged off in Gubio town released 10 tractors with accessories to each of the 27 LGAs of the state where each LGC Caretaker Committee Chairman went with 10 new brand tractors to distributed to the rural farmers to utilize for the 2018 farming season.
The governor who was represented by the Borno State Commissioner for Local Government and Emirate Affairs, Alhaji Usman Zanna said the state government deemed it very necessary to provide agricultural implements to the rural farmers to return to their farmlands which in the past three to four years were inaccessible due to the boko Haram insurgency.
He added that with the support and efforts of the military in all the parts of the state and relative peace being enjoyed by the people much recently, Government decided to assist the farmers to boost their farming activities with a view to cultivate and harvest more produces to feed themselves and even export some to other states and countries.
The governor however regretted the inability of the farmers to go to farm in the past which exposed some households to severe hardships and sufferings as food had to be imported from other parts of state and even neighbouring countries of Niger, Chad and Cameroon Republics due to the security. Challenges as people could not go to farm.
Shettima pledged to continue to support and assist the famers with agricultural implements, fertilizer and seeds as well as seedlings to cultivate more farmlands with the return of peace in the rural areas across the state and support of the security agencies.
He urged the LGCs to make proper use of the tractors ad ensure that the rightful beneficiaries enjoy the facilities provided for them while appealing for proper maintenance of the tractors and their accessories.