"I Have All It Takes To Match My Opponents", House Of Representatives Aspirant In Delta State Declares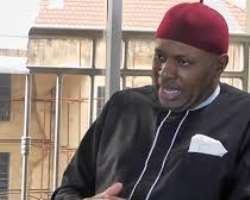 Ahead of the 2019 general elections, a House of Representatives aspirant for Aniocha/Oshimili Federal Constituency, Ike Onwuaduegbo, has declared that he would beat his opponents to the game.
He said, "This is our project, this is the project of the people in diaspora, Anioma people and the Onicha-Ugbo people. They have taken it to be their project. We have the resources to do it, we have the manpower and we have the financial resources" stressing that he would defeat the incumbent, Onyemechi Mrakpor, the former member of the House of Representatives, Ndudi Elumulu and former Speaker and member representing Oshimili South in the Delta State House of Assembly, Peter Owunsayan, "we are willing to match them in any way and form", he vowed.
He stated this while addressing newsmen Monday shortly after he officially declared his intention at the Peoples' Democratic Party (PDP), Secretariat, Ward II, Onicha-Ugbo, Aniocha north local government area of Delta state.
The American based business mogul disclosed that he joined the race after he had consulted widely with the Anioma people in Diaspora in the United States, Canada and in the European countries, "I have come to declare my intention to run for the office of the federal constituency of Aniocha/Oshimili in the House of Representatives".
He said the Nigerian and Diaspora teams would continue to work ahead of the general elections, "we are going to run this in a very different way than what is traditional and the end result is that we will achieve success".
He noted that he has shown enough commitment through his foundation which has bridged the digital divide, "in the process of doing that, we are giving them school give away".
He disagreed with the notion that he came to the political terrain in the 11th hour, "the primaries is still about three months away. We have to do consultations and people already have an idea of what we want to do, we don't accept it to be late and we will do our best to make sure that we get the ticket for the PDP", he assured.
He noted that the teams have their pedigree which people could always look at, "what we are doing right now, is to market ourselves and we believe that with that we are going to achieve success", he affirmed.