Enyinnaya Abaribe Charged To Court By Department Of State Security (DSS)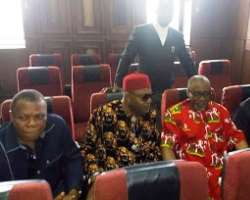 ENYINNAYA Abaribe, a senator from Abia State, appeared before a federal high court, Maitama, Abuja, on Tuesday, June 26, morning for his "show case" hearing. He was brought to the court by operatives of the Department of State Services, DSS,
According to Chukwuma-Machukwu Ume, SAN, his counsel, the senator is being charged on alleged gunrunning and for aiding the proscribed Indigenous Peoples of Biafra, IPOB. Ume addressed the press in Abuja on Saturday, June 23, saying that the senator was arrested and detained on Friday, June 22, based on the allegations.
The lawyer said the allegations were contained in a search warrant dated June 22, 2018, and produced by the operatives who raided the lawmaker's home in Apo Legislative Quarters in Abuja.
In the report which appeared in the Punch newspaper of Sunday, June 24, said that Ume quoted the warrant as directing the operatives to "focus and search for arms and ammunition and any other incriminating document, while the alleged crime was aiding and supporting a proscribed body i.e. IPOB."
Senator Enyinnaya Abaribe who was arrested by the DSS is seen here appearing in court here in Abuja where he is to be arraigned
He said the operation lasted six hours, between 5pm and 11:15pm on Friday.
Ume said: "Of all the 27 items seized and taken away, none could be all they wanted to see in terms of arms and ammunition or stored bags of 'Ghana Must Go' for sponsoring the said IPOB.
"Unfortunately two of the 27 items include the two handsets of two USA citizens found in the home. One of the laptops taken included that of an educationist containing examination questions slated to be set for students on June 25, 2018.
"All pleas for these questions to be copied were refused," the lawyer said.
Ume stated that the turn of events had become worrisome especially when Nnamdi Kanu, the leader of IPOB, was to appear in court in October 2017 but his house was raided earlier in September.
Abaribe has served as the surety to Kanu, who is now believed to be on the run.