Why the Media  in East Africa was More  Focused  on Winnie Mandela's Marriage Controversies than her Struggle against Racial Injustice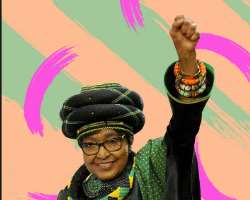 Winnie Mandela passed away on Monday 2nd of April 2018.She was at the age of 81. She died of an infection which had made her to stay for over a week at the hospital. She died at the Netcare Milpark Hospital in Johannesburg . Her death was confirmed by her personal assistant, Zodwa Zwane. On the same day The USA Today Magazine reported that Winnie Mandela was admitted to the Netcare Milpark Hospital in Johannesburg over the weekend after complaining of the flu. Similalry her spokesperson said in a statement to the state broadcaster that Winnie also suffered from diabetes and had underwent several major surgeries, thus she had been in and out of hospital since the start of the year.
It was so a doomsday, the day of bad luck to her family and at most to the general human but not only African family, the family of the decided few devouted to fighting social injustices which at most come in form of economic exclusion, racial bigotry and political tyranny. Let the Soul of this treasured daughter of Africa rest in peace, and may Africa be blessed with more of such in the near future, the future in which it is contemplated with precision that post colonial tyranny is bound to be crude in its oppressive use of power just as the colonialist politics was on the generations of Winnie Mandela.
The death of Winnie Mandela was an out-right news-piece just as any other event about her could be ready news.The media around the world presented announcements about Winnie's death as the breaking news.Newspapers around the world saluted Winnie's death as a cover page stories .Winnie herself was persistent hot news.Unfortunately, most of the Newspapers and news portal from around East Africa were more concerend with informing their audience that Winnie Mandela had a flawed life evinced in her controversial marriage, least were they concerend with reporting that the late Winnie Mandela was a writer, a freedom fighter, a self-immolated politician, a member of parliment, a mauverick woman,a social worker, a law scholar, a reader, a revolutionary, and a paragon of struggle against racial and social justice , a revolutionary paragon that only sufffered intermittent undermining as a victim of conspiracies that obviosly go with politics of betrayal. Such expereince makes me to admire Philip Ochieng for framing the title of his book; I accuse the press, and indeed I am also pissed off with the focal parochiaolism in relation to covering of Winnie Mandela's death among most of the media outlets in East Africa to an extent that I choose to accuse the press. For example this is how the Daily Nation in Kenya on wedneday, April 3rd 2018 announced Winnie's death ;Winnie Mandela: South Africa's flawed heroine dies - Daily Nation .The East African Standard also a daily paper in Kenya on the same date on page three had its title focussed on the flawed Marriage but not anti-apartheid legacies of Winnie Mandela.
I dont dispute the fact that it is an out-dated culture among the media to report a case of man biting a dog but not a dog biting a man.That, news must imply some degree of strange eventuality.That was not supposed to be applied in reporting the death of Winnie Mandela, she is already newsworth enought that you don't need to package some irregular stuff like past controversies in her marriage when writting news about her death to make your media story worth-while.
Winnie Mandela is an epitome of struggle against racial brutality, thus, talking about her is better reserved about the legacy of struggle against apartheid , a legacy she bequeathed to the world .Well seasoned thinking will readily accept the argument that she was not born to manage a perfect marriage, she was born well made to be a freedom fighter.And truely, nature cannot endow one person with all qualities;to be a good wife and a good freedom figter.No, it cannot be possible.This logic also extents to life,strengths and weaknesses of Nelson Mandela. When Mandela died no media house blamed him for divorcing his first wife. Mandela was only a good freedom fighter but not a good husband.Facts in testimony to this are that Winnie was not the first woman for Mandela to divorce, he had earlier-on divorced Emily Emase, reason why Mandela divorced Emily is that Emily was Jehovah's Witness enthusiast.Mandela himself narrates this episode in his memoirs Long Walk to Freedom.Thus, it is the time for human society, especially African society to stop judging a woman on the basis of how much a woman has performed in her marriage. A marriage which always call for submussiveness as a woman's duty . This is a contradiction to nature, a contraditction to the biological reality that not all women were created or were born to be good wives, some were born to be good presidents, good scientists, good-freedom fighters or even good writers but not neccessarily good wives.This is why I urge the media from East africa to go beyond patriarchal mindsets when writting and reporting about women.And if anything intellectually gifted people are higly prone to divorcing, they dont have an internal capacity to cling on a marriage.Evidently, Winnie Mandela was an intellectual, a social iconoclast who breciated the traditional tor of apartheid.
Winnie was a crusader for social justice.She did this through verbal politics, armed struggle, courtroom battles,strikes, cultural deviance, ideological pantophagy and also through the literary front. The media in south Africa has truely praised her as the Mother of freedom, she also desrves an accolade in literature- she is a co-mother to african literature . She is the author of two books;Part of My Soul Went with Him (1984)and then 491 Days (2013). These books were both published by Pan-Macmillan Publishers. In the books, she discusses the atrocities that apartheid perpatrated on individuals, families, orgainization and societies for no other reason but for the reason of vicious virtue that the victims of perpatrated atrocity had a black skin.Had it not been that Winnie was always arrested and physically brutalized by the apartheid governement during her youthful life, she would have written more than what she did .Given that it was the time of blossomed writting in South Africa, this was the time when Nadine Gordimer,Dennis Brutus, Bessie Head,Alex La Guma, Keraopatse Kigostsitsile , Peter Abrahams, Ezekia Mphalele, Sol Platje and very many other South African literary voices that defied colonial brutality in South Africa were putting down something; a poem, short prose or drama.
The media faulted Winnie Mandela for the words she used to describe Tutu and Nelson Mandela in a 2010 interview in which she was interviewed by V S Naipaul. In the interview, she attacked her ex-husband, claiming that he had let blacks down , that he was only wheeled out to collect money , and that he is nothing more than a foundation . She further attacked his decision to accept the Nobel Peace Prize with FW De Klerk. Among other things, she reportedly claimed Mandela was no longer accessible to her daughters. She referred to Archbishop Tutu, in his capacity as the head of the Truth and Reconciliation commission, as a cretin . The interview attracted media attention and the ANC announced that it would ask her to explain her comments regarding Nelson Mandela. This interview might have been a fabrication or was not meant to be published as the media later on speculated. However, the basic criteria of judging this interview must not be ignored- the intellectual nature and mental disposition of the interviewer , the one V S Naipaul; he is seriously an anglicized indian writer.He has never been able to write anything good about Africa, West indies, Asia, Islam world and South America. V S Naipaul is a living exstension of the heart of darkness.This interview he held with Winnie Mandela was one of several interviews he carried out cross Africa.They were published as a book, the Masque of Africa.The book is so presumptive , racially biased and heavily reeking of cultural shocks triggered by incompetent racism.It was so unfortunate that when in South Africa V. S. Naipaul only made an effort to read the works of Riana Malan, and also visited Herman Bossman, a pro-apartheid writer. This limited socialization could not have given Naipaul the right social exposure to understand politics, racism and believe system in South Africa. It is indicated in the Masque of Africa that while in South Africa Naipaul did not visit Nadine Gordimer, J M Coatzee, not even read S P Platje, Alex La Guma or Dennis Brutus. Reasons for this deliberate self-limitation is not given, but had Naipaul visited any public library he would have read Masizi Kunene's Decades of Anthem and also Shaka the Zulu , then he would have discovered that Africa is extensively rich in cultural and oral heritages and thus it does not need colonialism and apartheid for it to participate in literature and other artistic socializations as he foolishly claimed that apartheid was a blessing to South African literature . But the most discouraging of all is when Naipaul met Nomsamo Winiefred Madisekela Mandela, instead of focusing on her explanation of the revolutionary experience that patriotic South Africans like Joe Slovo, Walter Sisulu, Albert Luthuli, Oliver Tambo, and many others went through while fighting apartheid, Naipaul was thrilled with a very visceral concern that Winnie Mandela was beautiful and yet she did not finish her degree course in law. That is that, and it must happen around a great leader, as it is obviously known that good leaders harvest greatness from conflict. Evidently, Winnie survived all those controversies, she remained at the top of her of class, dutiful in service to the humble of humanity.
It is a trait of good leadership to be self-less, this is what Winnie Mandela was. During her time of being part of the governement as a deputy minister she openly criticized what she said was anti-social politics by the ANC, Such are the attributes that post-colonial African politicians need to admire in her . Those reporting her flawed marraige are bound to learn that Winnie had made peace with her ex-husband before he died. She came to his 90th birthday party in a soccer stadium in Pretoria in 2008 and stood by his side, alongside his third wife Graca Machel. Both women were also by his side when he died in 2013 at the age of 95. After his death, he was buried in Qunu village close to where he was born. Winnie Mandikizela-Mandela went to court to get access to the plot of land where Mandela is buried but lost because of being absent in court, even though Winnie took care of Mandela's old mother for the time Mandela was in prison, mandela never mentioned her in the last will. An act which regures further soul-serching before making a comment . But anyway, human beings don't live solely on bread, truth and service to the poor is what Winnie lived for. Let us mourn her with honour and pass her legacy to the future generations , she must make the memories we shall never lose.
Alexander Opicho, mail; [email protected]