Respect For Human Rights By Troops Is Sacrosanct....theater Commander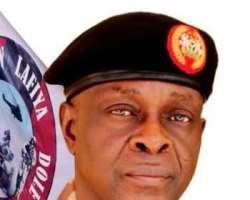 The Theatre Commander Operation Lafiya Dole , Major General Rogers Nicholas has reiterated that respect for Human Rights and protection of civilians by troops in the ongoing Counter terrorism and Counter insurgency operations in North Eastern Nigeria must be sacrosanct.
The Theatre commander made this assertion at the Headquarters, Theatre Command in Maiduguri, when he received Dr Martin Okey Ejidike , a Senior Human Rights Adviser from the Office of the Resident Coordinator, United Nations System in Nigeria.
Speaking further during the meeting with the UN envoy, the Theatre commander pointed out that though the operations in the north east is asymmetrical in nature, there are mechanisms in place to guide troops' conduct in their host communities, as well as, Rules of Engagement for the execution of their operational mandate.
Colonel Onyema Nwachukwu, Deputy Director, Public Relations, Theatre Command Operation Lafiya Dole said he added that the hierarchy of the military has zero tolerance for violation of any of these provisions, hence the establishment of a standing Military Court Marshall to try erring personnel.
General Nicholas also disclosed during the interaction that suspects are only arrested in the theatre when they are found to have participated directly in acts of terrorism or acted to aid and abet acts tantamount to terrorism.
The Theater Commander noted that the Boko Haram terrorists suspects in custody are pending prosecution which he said, does not fall within the purview of the military.
He called on the prosecuting agencies and the Nigerian Judicial system to expedite action on the trial of the suspects to sieve out those acquitted from the convicted. Gen Nicholas also revealed that Boko Haram Terrorists suspects who voluntarily surrendered to troops are still in custody and currently being processed for onward transfer to Operation Safe Corridor, where they will undergo a rehabilitation program.
He assured the UN Adviser of unfettered access to the seatings and proceedings of the Military Court Marshall in the theatre, when the court resumes shortly.
In his comments during the meeting, Dr Martin Ejidike, who said he was in the theatre to deliberate on pertinent issues bothering on Human Rights protection, stated further that it was crucial to meet with the Theatre Commander to acquaint the Theatre Command with the developments on the establishment of a UN Human Rights office in the theatre.
He added, that the move is also aimed at ensuring that the conduct of ongoing Counter terrorism and Counter insurgency operations in the north east are consistent with Human Rights provisions in Nigeria.