ONLY NEC CAN DETERMINE NWODO'S FATE – PDP REFORM FORUM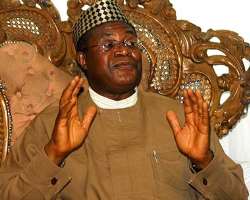 Dr. Okwesileze Nwodo
Members of the Peoples Democratic Party Reform Forum have said that only the National Executive Committee of the party could stop Dr. Okwesileze Nwodo from being the next chairman of the party.
The group also allayed the fears of governors elected on the platform of the party not to nurse any fear concerning the impending restructuring of the party.
Speaking at a press briefing in Abuja on Thursday, the leader of the group, Senator Ken Nnamani, said his group had no opposition to Nwodo's candidature.
The former governor of Enugu State and the party's leadership had been dragged before a Federal High Court over the former's ambition to lead the party.
The plaintiff in the case, Mr. Imo Ugochinyere, who sued on behalf of the PDP Stability Forum, is asking for an interlocutory order restraining the PDP from appointing Nwodo as the chairman of the party.
But Nnamani said what the members of the Board of Trustees and President Goodluck Jonathan did in choosing Nwodo was in line with the party's constitution.
The group added that until the party's constitution is amended, the power to appoint anybody in the party rest surely with NEC.
He said, 'We are not against his candidature and I can tell you that it is only the party's NEC that can determine his fate.
'What the president and the caucuses and BoT seem to have done, I believe is in line with our constitution of the party.
'There is a particular section of the party's constitution which states clearly that if there is a vacancy, the nomination will be taken from the same zone of the former occupant.
'And, therefore, that is exactly what they have done, and PDP reform forum is not a political party, it is a loyal member of the party, and what the party caucus has done, and that of the BoT is where the reform forum happened to find itself.'
On the progress of their meeting with the members of the party's National Working Committee concerning his group's reform request, he said that as a first step, the reformers have withdrawn their case in court.