Olugboyega-Alabi promises to run self-reliant government if elected as Osun Governor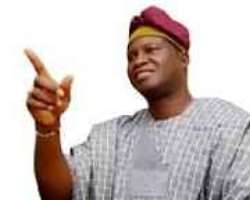 A governorship aspirant on the banner of All Progressives Congress( APC) in Osun State, Hon. Benedict Olugboyega-Alabi has promised to run a government with less reliance on federal allocations, if elected as governor in the September 22 gubernatorial election.
He said this while making an official declaration of his intention to vie for the governorship position in the state.
Olugboyega-Alabi said governance is all about commitment and selflessness. He promised to make a different in policy formation and implementation.
" The tree agenda of my administration is tailored towards driving the vision of Osun of our dream, making it financially independent, ensure participatory governance and digital driven growth.
"As a governor, I am determined to offer leadership of financial prudence to overcome our economic problems.
"I will work to run inclusive government , the one that involves the youths, women and critical mass of our people in the decision making process.
"The world they say is a digital village; therefore, I have a goal to lead a government that is digitally driven in a digital hamlet, where our children and working force can compete favorably for lucrative jobs globally. These are my agenda for a sustainable, unity and economic growth of our state."
Stating some of his achievements in the last two years as the founder "Osun Ajose Foundation" he said he has empowered over 4,000 petty traders /Market women by facilitating bank of industry free interest loan.
He added that the foundation has also empowered over 1000 youths in the production of selected crops; provision of farm inputs, seedlings and stems to over 1,000 people, training of over 2,000 young people in different skill acquisition and provision of start-up equipment and funds after training, empowerment of over 1000 fish farmers and several physically challenged people among other humanitarian and developmental programmes.
The APC chairman, Prince Gboyega Famodun in his address said the party would ensure free, fair and credible primary election .
Famodun who described Alabi as a gentle, generous and intelligent politician said that truly Alabi has been impacting positively on the lives of many in the state. He thereafter prayed God to grant him his heart desires.