Open Letter To Gov Rochas Okorocha, From Barr Chima Anozie (homebase),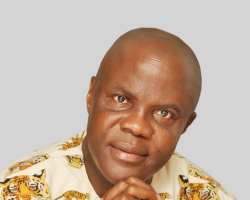 Barr Chima Anozie (homebase)
June 12, 2018.
His Excellency
Owelle Rochas Anayo Okorocha (OON)
Executive Governor of Imo State
Government House, Owerri.
Your Excellency,
AN APPEAL TO SUE FOR PEACE IN IMO APC
I write with a heart filled with gratitude for APC's continuous hold of Imo State's leadership, and of sadness that towards the edge of consolidating our continuous hold of the apex State-leadership, in-house fighting, clash of interests and factional skirmishes overrun the State Chapter of the Party. Sir, nobody is perfect and no mortal will ever be, no matter how upright in virtuosity. Truly, many deeds have been done, rightly and wrongly, and it is useless apportioning blames. What is needed and urgently now is- The way forward.
As the Number One Citizen of the State, you are the State's Father. In our Party, APC, you are the apex leader. Whoever feels or thinks you have no big say in the Party's affairs, is daydreaming. Yet, the Party as a family (which you, I and others are members) has the biggest say, and together we can do it, and better. Imo APC no longer has common front. Instead, parallel leadership, interests and structures are bitterly pursued. Is it how we will retain the leadership after you? We misunderstand to understand, and forge ahead.
You need to sue for peace. The leader is the chief peace-maker. As it stands now, if you truly love Imo State, if you truly love Imo APC; if you truly mean our Party's continuous stay at the State's hem of affairs after you, you have to sue for peace. It is the Father's duty; you can never back out from it. Let bygones be, and let us forge ahead. The blood of our party APC, its unity and success must ever be of paramount interest to all of us.
The history and success of APC chapter in Imo State cannot be written without you as central character. And you cannot afford to be a hen that gathered mounts for relaxation and later uses same legs to scatter the mounts, for whatever reason. Imo APC is strong and prestigious today, courtesy of you. Would you watch it demolished at your exit, because of interests that have alternative dispute resolution? Please Sir, sue for peace and sow fairness and equity, and posterity will adore your icon.
Yours faithfully,
Barr Chima Anozie
(Home Base)