Okowa, Ibori, Commends INYA President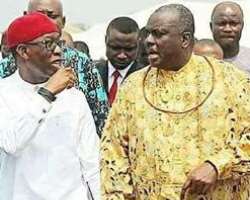 Delta State Governor, Mr Ifeanyi Okowa and a former governor of the state, Chief James Onanefe Ibori have lauded the President of Isoko National Youth Assembly (INYA), Comr. Umuakpor Ovie, for what was termed a rare sense of responsibility among youths and his devotion to the struggle for Isoko Development.
The duo gave the commendation Thursday during the commissioning of the Isoko Unity House, Oleh, Isoko South local government area of the state.
Okowa said that after a 30 minutes closed door meeting with Ovie Umuakpor, he became convinced that he is one with requisite intellect to lead the youths aright.
The governor said that the times are difficult but the government needs the cooperation of youths like him, adding that only with that would the state make progress.
Former Governor, James Ibori, who also applauded Ovie, for his resolve to fight good course for the people of Isoko Nation said "I must commend you. Today might be ours, tomorrow is yours".
They urged him to continue to exhibit the high level of responsibility, adding that with that, God would lift him high to a higher level where he would be able to serve Isoko nation in a better capacity.