Anti-Corruption Crusader Wants Delta North Senator Jailed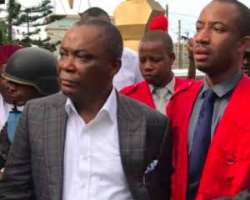 The Founder and President of the Anti-Corruption Crusaders and Integrity Forum, Prince Kpokpogri has said that the Senator representing Delta North Senatorial District, Senator Peter Nwaoboshi deserves to go to jailed, adding that the alleged atrocities committed by the embattled Senator from his days as Delta State Chairman of the Peoples' Democratic Party (PDP) are enough to quarter him permanently in prison.
The fearless Delta born anti-corruption crusader made these assertions during an interview to ascertain the state of trial of the Senator, being a witness in some of the cases involving the Senator.
According to Kpokpogri, "The case is at its first stage, starting with the controversial purchase of the Guineas House from Delta State Government, using his company - Suimin to front. Other cases linking another of his company - Bilderberg are coming, including his alleged dubious dealings in NDDC using his position as the Senate Committee Chairman on NDDC and the detailed contracts and IOC".
Prince Kpokpogri who is known for his landmark achievements in uncovering massive fraud in DESOPADEC and critical sectors of Delta State Government and beyond, affirmed that the EFCC is seriously investigating Senator Nwaoboshi and obtaining documents on all the contracts he had allegedly influenced to himself and cronies from NDDC, insisting that no amount of running or diabolical threats would save him from the long arm of the law.
"Let me tell you by experience, that cases are not won by legions of lawyers. Cases are won by facts and evidence. Nwaoboshi's lawyers could have convinced the judge that he was flown abroad on health grounds, but that trick won't last forever", he stressed.
Kpokpogri however, posited that as an anti-corruption crusader, his group would do everything possible to ensure that the trial of Nwaoboshi is judiciously prosecuted; adding that any attempt to cover up the sins of Nwaoboshi would be resisted.
He said he has confidence in the judge, Justice Mohammed Idris as a man of honour who would do justice to the case, maintaining that the case is glaring and there would not be any system covers up.
Senator Nwaoboshi was recently arrested and arraigned at the Federal High Court, Ikoyi and was remanded at the Kirikiri Prisons and later got bail after days in detention. On Thursday the 7th of June, 2018, the trial of Nwaoboshi came up in court, but it was adjourned to enable him attend to his medical treatment abroad which critics said was an attempt to buy time.
According to our source, Nwaoboshi's lawyers had allegedly produced fictitious medical documents, claiming that the Senator had an undisclosed ailment and he had to travel abroad for urgent medical attention.
But in his response, Nwaoboshi, said because his accusers could not get anything to hold him, they leveled false allegation on him, "the company they alleged is my own, took a loan of N1.2 billion from Nexin Bank. You know initially they said the money we used in buying that property was from second hand equipment and when the court has pronounced that there was no money laundry and that you cannot trace the payment of that property to the equipment, they now said we took a loan of N1.2 billion and that from the loan of N1.2 billion that we took N332 million to offset the property that we bought in Lagos".