Osun APC governorship aspirant lauds Buhari on June 12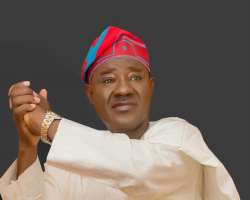 A governorship aspirant of the All Progressive Congress (APC) for the September 22nd gubernatorial election in Osun State, Elder Tunde Adedeji has lauded President Muhammadu Buhari for declaring June 12 as Democracy Day.
Speaking with journalists on the commemoration of the annulment of the June 12, 1993 presidential election, Adedeji congratulated Nigerians as he described it as victory for democracy.
He noted that the action of President Buhari in recognizing the fact that Chief Moshood Kashimawo Abiola (MKO) truly won the election was patriotic and must be applauded by all sincere citizens.
According to him, "the recognition of June 12 as the day when democracy became firmly rooted in Nigeria is the best thing and must be applauded by patriotic citizens of this country because Chief Moshood Kashimawo Abiola (MKO) paid a supreme prize for our democracy".
"Recognizing MKO Abiola as winner of the June 12, 1993 election by President Buhari is an act of righteousness for which I am sure God will reward him. May we witness more of righteous leadership and actions that will exalt our nation Nigeria", Adedeji said.