OIL SPILL: BP SHARES PLUMMET ON US PENALTY FEARS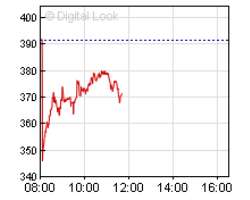 BP
Last updated: 10 Jun 2010, 09:19 UK
*Chart shows local timeprice change %
370.65p -20.90 -5.34
More data on this share price
BP shares plunged 12% at the start of London trading before recovering, on fears that President Obama will impose huge penalties on the company.
It means the oil giant's share price has almost halved since the Deepwater Horizon oil spill began on 20 April.
BP's share price opened at 345 pence – its lowest level since 1997 – before recovering to 375p in early trading.
The latest drop comes amid fears of damage to the UK's reputation in the US.
The oil company has come under increasingly sharp attack by US politicians, as congressional mid-term elections loom in November.
US interior secretary Ken Salazar said that BP should compensate other oil companies that have had to lay off workers because of a moratorium on deep sea drilling announced by President Obama in response to the Gulf of Mexico spill.
Meanwhile, associate attorney general Thomas Perelli told a congressional hearing that the Justice Department was planning to take action to force BP to withhold its next dividend payment.
The drop in BP's share price is already bad news for UK pension funds, which invest heavily in the firm.
The oil company has said that it pays £1 in every £7 of dividends that pension funds receive from FTSE 100 companies.
Further congressional hearings into the Gulf of Mexico oil leak are planned on Thursday.
'National concern'
PESTON'S PICKS
Continue reading the main story
Robert Peston,
Business editor, BBC News
Overnight, the US Justice department said it was examining ways of forcing BP to suspend its dividend until BP's full liability for the oil spill is known with more precision.
And the Justice department is only doing what influential US politicians are demanding. Which is a serious concern to BP, in that it may be a British company by dint of history and legal domicile, but it is very American by virtue of its giant acquisitions of a decade or so ago.
My conversations with those at the top of BP indicate that they're increasingly minded to go for a voluntary moratorium on dividend payments, to bring some kind of fragile truce to hostilities with the US government.
But President Obama should be aware that such a suspension of dividends would in effect deprive US savers of some $4bn of income per annum. Or to put it another way, in a world of global capitalism, Obama can't punish BP and expect all or even most of the pain to be felt in Britain.
Read Robert's blog in full
London mayor Boris Johnson told the BBC that BP had paid a "very, very heavy price", and expressed concern that the oil spill was beginning to damage the entire image of the UK in the US.
"I do think there's something slightly worrying about the anti-British rhetoric that seems to be permeating from America," he told BBC Radio 4's Today programme.
"I do think that it starts to become a matter of national concern if a great British company is being continually beaten up on the international airwaves," he added.
"I would like to see a bit of cool heads and a bit of calm reflection about how to deal with this problem rather than endlessly buck passing and name calling."
'Ass to kick'
President Obama and other US politicians have repeatedly referred to BP as "British Petroleum", even though the company has not used this name since 1998.
The US President has said he was looking for "ass to kick" at BP, and that he would have sacked BP chief executive Tony Hayward over flippant comments about the scale of the spill.
John Hofmeister, former head of Shell in the US, told the Today programme he thought the situation was compounded by American perceptions that a foreign company had "insulted the American landscape".
"I think in retrospect it was a mistake for Tony Hayward himself to have been so fully present in the United States… with the accent that he naturally has… this was an apparent foreign company."
BP is jointly listed on the New York Stock Exchange – and trading in its US shares closed nearly 16% down on Wednesday night.
BP said it was not aware of any reason why its US shares had fallen so sharply
In response to the sharp fall in the US, BP said it was "not aware of any reason which justifies this share price movement".
In its latest update on the spill, the oil giant said that the total actual cost to date was some $1.43bn (£1bn).
This compares with a total of £55bn that has been wiped off BP's value since the spill began.
Thursday's opening losses follow a 4.5% slide in BP shares in the UK on Wednesday over fears of a dividend cut. Its next dividend is due to be declared on 27 July.
Market nerves have also been reflected in the value of BP's bonds, which now trade at levels comparable with junk-rated companies.
This is despite the company continuing to enjoy high "investment grade" ratings from all three major ratings agencies.
Takeover target?
Speculation is growing that BP's depressed share price may make it a target for a possible takeover.
"I can understand exactly as to why somebody else would want to buy the BP assets because I think they are grossly undervalued at the moment," said Robert Talbut, of Royal London Asset Management, a BP shareholder.
"As a shareholder, it's not something that I would welcome and it's certainly not at this sort of share price I would be willing to sell at."
In a recent research note, Standard Chartered suggested that PetroChina – a subsidiary of China's state-owned national oil company – should make a bid for BP in order to gain a global presence.