Implications of June 12 Democracy Day declaration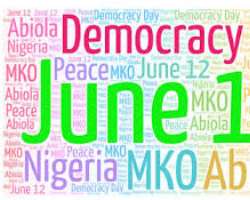 "June 12, 1993 was the day when Nigerians in millions expressed their democratic will in what was undisputedly the freest, fairest and most peaceful election since our independence. The fact that the outcome of that election was not upheld by the then military government does not distract from the democratic credentials of that process", President Muhammadu Buhari has declared.
On Wednesday June 6, 2018, President Buhari added another record to Nigeria's history by declaring June 12 Nigeria's Democracy Day to replace former president Olusegun Obasanjo's May 29,18 years after Nigerians celebrated the day as remembrance of the return of democratic governance to the country. With this, Buhari has recognized the significance of free election. He has re-avowed support for sustained democracy through international practice of hitch-free and acceptable polls. Methinks he has the political will to conduct freer and fairer general elections in 2019. The 2019 elections should witness greater success than that conducted by General Ibrahim Babangida and there should be assurances that actual winners would be declared. This is a task on the Professor Mahmood Yaqubu-led Independent National Electoral Commission (INEC). This is one of the serious matters arising from the presidential declaration.
Buhari shares the view of millions of Nigerians. In his words, June 12, 1993 was and is far more symbolic of Democracy in the Nigerian context than May 29, or even October 1. In a statement he signed, he said: "For the past 18 years, Nigerians have been celebrating May 29 as Democracy Day. That was the date when for the second time in our history, an elected civilian administration took over (would have taken over – mine) from a military government." The first time this happened, he observed, was on October 1st, 1979. Wonderful observation! The truth remains that it was a credit to Nigerian. The annulment of the results by the then military administrator (MILAD) does not reduce the democratic acceptability of the electoral process.
The President also demonstrated further political will by recognizing the protagonist of the June 12 political drama, Chief MKO Abiola, by awarding him Nigeria's highest honour, Grand Commander of the Federal Republic (GCFR) which is only attained by Presidents of Nigeria. By this, Chief Abiola, though late, is now recognized as a past President of Nigeria. Historians and relevant government agencies should work out the period he served or might have served in that capacity. Though he was not sworn in, they can consider the period from after the elections till he died. Furthermore, his picture should now be fixed in all places where past presidents of Nigeria are showcased.
Further matters connected to this declaration should included payment of his entitlements as a president of Nigeria and all other privileges or rights that a deceased president is entitled to, according to the constitution or any presidential order. If there are any national recognition(s) to which the wife and children were due for, there is need to release it to them. As simple as that, the wife and children should be granted access to federal government opportunities like other past presidents.
President Buhari's recognition of Abiola's running mate Ambassador Babagana Kingibe with Grand Commander of the Order of the Niger (GCON), the second highest political honour in Nigeria is another matter, though it is paramount as Abiola's own stands. It means Kingibe has attained the position of the vice president of Nigeria. So, as all entitlements should be granted to Abiola as late president, all that is entitled to the vice president of Nigeria should be extended to Kingibe.
Late Chief Gani Fawehinmi who campaigned for the actualization of June 12 up till Abiola's death was conferred with the second highest honour of GCON. Fawehinmi died in September 2009 after a protracted lung cancer at 71. But a matter arising from here is what honours should be given to all the key fighters for the return of democracy in 1999. Unarguably, some Nigerians died or were killed for that great cause of librating Nigeria from military clutches. Those who could be identified should be remembered through their families and compensated somehow either with employment or scholarships.
The election of Abiola and Kingibe was adjudged the freest and fairest in then Nigeria's history. Many may put to debate if it has not remained the best till now. Unfortunately, the election was mysteriously rejected by General IBB. That was the beginning of the new order of political crisis in Nigeria. Abiola died in on July 7, 1998, nearly six year after his victory to led Nigeria was dashed by IBB. Since then, the northern military oligarchy had insisted on compensating the Yoruba people. That is, to calm the political tension arising from Abiola's demise, Olugegun Obsanjo was installed in 1999. But since 1992, there has been no clear explanation for annulment of the election. What are the bones in the cupboard?
In 2009, General Babangida made attempt to clear the inquisitiveness of Nigerians on the annulment. In a TV programme, Moments with Mo, anchored by Mo Abudu and broadcast on MNet channel of DSTV, he said he was compelled to nullify the election because of security threats to the enthronement of a democratic government at that time. According to him, he and the Armed Forces Ruling Council (AFRC) knew that the new democratic government to be installed would sooner than later be toppled through another military coup deta't, which he said his government wanted to avoid. He claimed his regime wanted to be the last military administration that would ascend the seat of power through coup. Said he, "June 12 was accepted by Nigerians as the best of elections in Nigeria; it was free and fair. But unfortunately, we cancelled that election."
This explanation plunges one into another dark air. What were exactly the threats that would have erupted after Nigerians had voted and were ready to defend their mandate by flushing the military out of power? Who were the expectant coup plotters? Could General IBB not have protected the democratic government if he was interested in handing over, having the knowledge of the possible coup plotters? His language of "stepping aside", remained pregnant as his body language explained further. He had made several attempts to come back as a democratic president. The, to protect Nigeria's unity, which was alright, he brought in Obasanjo to strike equilibrium and pacify the Yoruba for the loss of Abiola.
Another matter arising from Buhari's declaration borders on why throughout Obasanjo's eight years' leadership, he did not celebrate June 12 or at least recognize it as a national day. It may be argued that it would look as a tribal affair, being a Yoruba like Abiola. The South West Nigeria, being a political fulcrum in Nigeria, could not convince him. Immediate past President Goodluck Jonathan could not do it. In short the then ruling party, People Democratic Party (PDP) could not do it, although they had all the opportunities. In 2014, Dr. Ebele Jonathan bestowed the national honour of GCFR on late Abacha. Justice Belgore did not complain.
I must congratulate President Buhari for another achievement. It takes a political will to effect a change in a difficult society like Nigeria. Despite all the squabbles from different quarters ranging from the National assembly to individual opinions arising from the matter, I stand firm to say that Abiola deserves to be immortalized. Asking INEC to release the election results is not necessary. Former President Umar Musa Yar'Adua would have recognized Abiola's contributions to Nigeria's democratic development and enthronement if he was quite stable. He also should be immortalized by Buhari, irrespective both are from the same state. Yar'Adua positively affected Nigeria's politics. Some more national recognition should be given to him by naming national monuments after him. The Yar'Adua Center is not enough. Happy new Democracy Day!
Muhammad Ajah is an advocate of humanity, peace and good governance in Abuja. E-mail [email protected]
Disclaimer:

"The views/contents expressed in this article are the sole responsibility of the author(s) and do not necessarily reflect those of The Nigerian Voice. The Nigerian Voice will not be responsible or liable for any inaccurate or incorrect statements contained in this article."