Imo Guber 2019: Okorocha Reels Out Strategy To Shut Out Madumere's Rising Profile
 PROMISES VIOLENCE AGAINST MADUMERE'S SUPPORTERS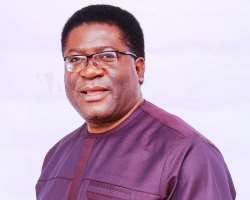 Unhappy about the rising profile of his Deputy, Prince Eze Madumere, Governor Rochas Okorocha has concluded plans to shut out the former's supporters.
The Governor's decision stems from Madumere's opposition to his estranged boss's resolve to foist his son-in-law Ugwumba Uche Nwosu, on Imo people as the next Governor, come 2019.
A source close to the Governor's son-in-law, revealed that Okorocha has unfolded grand plan to shut-out the Deputy Governor and his numerous supporters, in a desperate bid to halt the growing popularity of the latter.
Ugwumba Nwosu reportedly confided in our source that the governor gave the violent order after all entreaties to get Madumere to drop his governorship ambition failed.
Our source, who was among a select few hosted yesterday by Nwosu in a hotel (name withheld) along Works Layout, Owerri, Imo State, disclosed that the Governor was very angry with Madumere and threatened to deal decisively with him and his supporters.
In the said meeting, which began at about 3.30 pm, Chief Nwosu urged supporters not to bulge over the activities of the 'All progressives Congress Stakeholders' popularly known as Allied Forces, assuring them he will overcome them because of his financial war chest, the report claimed.
To charge the atmosphere of the meeting that was dominated with rented attendees wearing long and gloomy faces, Chief Nwosu promised the 'Imotaxi' drivers who complained of the difficulty in paying back to the State Government the agreed amount of the taxi they took on higher purchase from Governor Okorocha led government, to cancel the remaining payment plan as a relief.
After calling the Deputy Governor names, he charged his followers to attack anybody who raises voice in support of Prince Madumere even if it results to death, assuring of his protection.
The diminishing side of the meeting crept in when he gave out N3000 to each of the attendees against their expectation.
Meanwhile, the General Manager of Environmental Transformation Committee (ENTRACO), Hon. Jeff Nwaoha, who came in company of the Governor's son-in-law threaten crisis in the State if Nwosu does not become the standard bearer of All progressives Congress as his boys are ready to unleash hell in the State.
It will be recalled that there have been recent effort to impeach the Deputy Governor of the State due to his rejection of Governor's rejected gift of son-in-law to Imo people as a successor, come 2019 and other irreconcilable issues that bother on policies and programmes.
Meanwhile Olu Owerri, a socio cultural group led by Chief Martin have warned Governor Okorocha's government against any attack against any illustrious son or daughter of Owerri zone, vowing not to condone such in whatever guise.