Believe this Man, He Sees the Future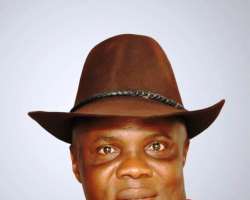 Sometimes it seems man has truly lost the image of the Creator in him. Sometimes, it seems the Creator Himself is far off from man and his envisions. Sometimes, it seems man's antiquity, which forms part of the good olden days, had divinity and its propinquity at his beck and call. The latter soliciting for the yawning of diviners, seers and thus prophets.
But indeed, man has never for once lost the image of God in him, but has been constantly estranged due to transgressing acts that pull off man's sentience and cognisance of God's presence within him. Indeed, God is never far off from man and his envisions. Indeed man's antiquity and post-modernity are same with regards to the presence of the unchangeable Creator and His Omnipresence in creation. And thus, every age, society or group, is always blessed with seers, diviners and prophets that are but perhaps never recognised to be such.
Consequently, there is no gainsaying the fact that Imo State has prophets, seers and diviners spread beyond church and altar confines, and are vivant also in the Imo chapter of the NUJ, Imo APC, etc. In the Imo NUJ, almost all the editors of Imo local tabloids are blest with foresights. Mr Ifeanyi Nwanguma is chief among them, so are most of the powerful chief scribes that our apex politicians have hijacked and made their CPS.
In Imo APC, Barr Chima Anozie is the chief seer, in fact their High Chief in foresight, prescience, accurate prediction and prevision, which the most religious call prophecy. Somehow, I think he sees the future. If you have been a constant reader of his publications, you will notice among other outstanding qualities, that almost all his declarations in Imo APC have come to pass.
If you have been an ardent reader of his publications, I mean his and not those of his Secretary, Stanley U Okoroji, you notice that his predictions are highly prophetic and come true. On April 30, 2018 there were "2019 is Owerri Zone's Turn" and "We've Govt House Come 2019" in the Big Truth and Nigerian Horn newspapers. They were from an interview he granted, and predicted how Imo APC would go about the proposed and then forthcoming congress, and that such would either make or mar the party. This saying became very true.
On April 2 and 5, 2018, in his publication on "Buhari and the Ergonomics of Tenure Elongation" in Announcer Express and Whitepaper, he warned that Imo APC must "thread with cautions, bearing the supreme democratic rulebooks on one hand, holding goodwill, spirit of sacrifice and sportsmanship, dedication and unity of the party on the other hand." Without a frank-party spirit as nucleus in all party activities, he predicted that the party Congresses will be disastrous in terms of peace and synergy, nationwide and Imo State in particular.
Also, in a publication about him by Stanley U Okoroji, "Home Base Solicits for Peace" on March 26 in Nigerian Horn, March 29 in Whitepaper and March 30 in Big Truth, Barr Chima Anozie was quoted as having said that the in-house fighting in Imo APC, 'will end up destabilising the party. And the issue of "Onye agburu anyi" (our race or folk) will bring dichotomy, which polarises and breaks unity and its consequential synergy.'
In the Nigerian Horn, April 4 2018, it was published of him declaring that he is "The Alternative to the Answer that Will Fail" for Imo APC gubernatorial election come 2019. Today, the crises rocking Imo APC and the obvious incompatibility of the two camps- Agburu and Coalition- On the issue of the gubernatorial aspirant that each of the camps projects, which from all indications the other group can never accept, makes case for the volunteered and avowed Alternative, and that is what Imo APC sees as last resort and is longing to see and cue in.
In another interview he granted to journalists in the State, published in Big Truth 16th March 2018 and Nigerian Horn March 15 2018, he warned Imo APC politicians and political gladiators in the State, not to destroy the party- "Do not destroy the Party because of your selfish ambitions." Today, the selfishness is gross and even manifesting in the sharing of bounties for the Coalition and Agburu, each with its own problem, and then the collective bargaining will be impossible.
Also from April 7-9, the Nigerian Horn, Announcer Express, Whitepaper and Big Truth newspapers relayed his interview, where he foresighted that the crisis then in APC was small and that a bigger one loomed. Though he was optimistic that "Crisis is very essential for progress" especially when there is no violence, as it brings up good results at the end. Today, it's all true that without these crises, Imo APC would have become one man's property and others turned to vassals of the grand fief.
He was also too sure in the interview that "2019 is Owerri zone's turn" to produce Imo Governor, and claimed to be the best and highest team player in the Party, and boasted that he had all it takes to rule Imo State- Socially, morally, religiously, materially and intellectually. Perhaps, these claims may be true also, given the verity and realisations of all his predictions and declarations since February 2018 on the Imo APC.
In same publication he noted that the debouched APC "tenure elongation was a blessing in disguise. It aimed at the party's unity, especially given the proximity of the general elections. Without it, APC risks stepping into national crisis as lists will abound and each interest leader will scheme and skim for his candidates, and is ready to spend millions of naira to make sure the candidates scale through." He also warned that "we must now thread with cautions, bearing the supreme democratic rulebooks on one hand, holding goodwill, spirit of sacrifice and sportsmanship, dedication and unity of the party on the other hand."
In his recent publications in the Nigerian Horn, Big Truth, Announcer Express and Whitepaper, "Imo Is My Agburu" from May 29 to 30th 2018, Barr Anozie harmed on two essential issues. First that if Imo APC goes "by agburu, we're into multifaceted problems. The entire State should and have to be carried along entirely, taking the whole Imo State as an agburu, and use the gregarious language of the Owerri man- Batama, uyoo wu uyoo mu'a gi!" I pray the party takes this serious unlike before, and devises means of making the entire Imo State one Agburu- "Agburu Imo" as he vowed Imo is for him.
This week again, June 4 2018 in the Nigerian Horn and Big Truth newspapers, as well as in the Announcer Express, June 6 2018 which relayed his newest interview that had him declare that "Suspending Rochas Is not the Best" for Imo APC, he has come up with some prophetic declarations that must be taken cognisance of. He has called on the two factions of Imo APC to sheathe their swords, "to survive" he said, Imo APC "must close all ranks and this is the time."
I thus use this medium to call on all Imo APC chieftains and members, to come up this weekend with the forward no matter how difficult it is to ones' ego and the afflictions felt, so that next week, we will experience new life, hope and vision in the party.
Disclaimer:

"The views/contents expressed in this article are the sole responsibility of the author(s) and do not necessarily reflect those of The Nigerian Voice. The Nigerian Voice will not be responsible or liable for any inaccurate or incorrect statements contained in this article."