Benue and Taraba should suspend anti-grazing law for sake of peace: Defence minister Dan-Ali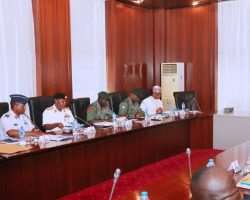 The minister of defence Mansur Dan-Ali would want the suspension of anti- grazing law in Benue and Taraba states to pave way for peace.
These are only the only two states in Nigeria that have so far passed the law prohibiting open grazing in the country.
Dan-Ali, in a presentation at Tuesday's security meeting between President Muhammadu Buhari and the service chiefs, at the Presidential Villa, Abuja, urged the affected states to employ other channels to deal with farmers and herdsmen Crisis in the country.
He therefore suggested to council "The need to employ other channels with the affected states to reduce tension by suspending the implementation of the anti-grazing laws while also negotiating safe routes for the herders".
The minister called on the Department of State Services (DSS) and the police "to prosecute all the suspects arrested in the states" violence and killings that have trailed the farmers and herdsmen clashes in the states stressing the need for the establishment of "National Commission on the control of Small Arms and Light Weapons in Nigeria".
Dan-Ali also stressed the urgent need for the establishment of a joint Task Force Operation similar to Operation Safe Heaven in Jos, Plateau to cover Zamfara and Birni Gwari axis of Kaduna state with headquarters in Gusau, Zamfara State.
Addressing State House correspondents, after the meeting, Inspector General of Police Ibrahim Idris said the joint task force would come into effect in about two week.