Odigie-Oyegun withdraws from APC national chairmanship race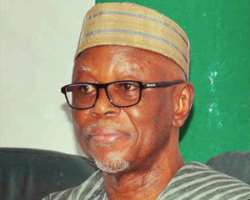 The National Chairman of the All Progressives Congress, Chief John Odigie-Oyegun, has withdrawn from seeking to retain his seat in the party's upcoming National Convention.
Odigie-Oyegun announced his withdrawal from the race at a press conference on Friday in his Abuja residence.
There had been suspicion Odigie-Oyegun will withdraw from the race following the open declaration by President Muhammadu Buhari for the candidwature of a former Governor of Edo State, Comrade Adams Oshiomhole, for the race.
The elective National Convention is scheduled for June 23, 2018.
The chairman said, "Even though, I had the desire to recontest as National Chairman of the party, I have decided that it is ultimately in the best interest of the party for me to withdraw from the race."
Odigie-Oyegun explained that he, like most party members, felt it was better to allow the current party executives at all levels to continue in office.
This, he said, could have possibly staved off the current level of discord which followed the recently concluded party primaries.
He, however, admitted that if the decision of the party's National Executive Committee on tenure elongation was allowed to stand, it would have amounted to postponing the evil day.
Odigie-Oyegun said, "If this decision (tenure elongation) was sustained, we probably have achieved our objective. But we would only have succeeded also in postponing the evil days as it were.
"In retrospect, I am inclined to agree with the viewpoint that even a young political party as ours need to be subjected to the crucible of these contestations, which in any case, is the hallmark of progressive politics.
"In the end, even as difficult as the situation may appear at the beginning, the experience we would draw from managing the contesting interests, can only help to make our party stronger and more resilient."
The chairman would however remain   in office till his tenure officially ends on Monday 25th June, when a new set of party executives will be inaugurated.