In Delta State: Omu of Okpanam Not Her Royal Majesty, Ugo Ani-In-Council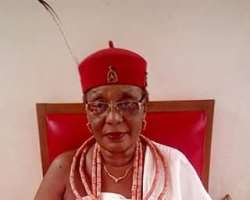 The Ugo Ani-In-Council of Okpanam Kingdom in Oshimili North local Government Council of Delta State has said that an illustrious daughter of Okpanam, who is being addressed as Her Royal Majesty (HRM), Obi (Dr.) Martha Dunkwu, Omu of Okpanam and Omu of Anioma, is infact Chief Martha Dunkwu, Omu of Okpanam.
A statement signed on behalf of the Council by the Okaa-Omee of Okpanam Kingdom, Chief P. K. Obanya, and the Oza Okita of the kingdom, Chief Steve Okonta, noted that going by the tradition and custom of the people, Chief Martha Dunkwu is the leader of market women and general overseer of problems and general welfare question of women in the kingdom on behalf of the traditional ruler.
The statement said that it is only the traditional ruler of the Kingdom known as the Ugoani of Okpanam, His Royal Majesty (HRM), Michael Mbanefo Ogbolu, and currently the Chairman of Oshimili North Local Government Area Council of Traditional Rulers, that is qualified to be addressed as His Royal Majesty.
According to the statement, the Omu is a respected and revered Chief in the Kingdom, but in order to correct the misconception in any quarters and put the records straight, the Omu of Okpanam is Chief Martha Dunkwu and not Her Royal Majesty (HRM), Obi Martha Dunkwu.