Ekiti APC youths condemns rumoured choice of Adubiaro, a PDP member as Fayemi's deputy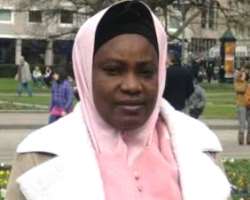 Youths in the All Progressives Congress (APC), in Ekiti State, under the aegis of Ekiti APC Youths Congress (EAYC) have said that the rumour being circulated that the party's governorship candidate, Dr. Kayode Fayose has picked Igboora, Oyo State born Dr. Habibat Adubiaro as his running mate was an insult on members of the party.
The EAYC said in a press statement issued after its emergency meeting on Monday that it was demoralizing and demeaning for Fayemi to have even considered Dr. Adubiaro, who up till now is still a member of the Peoples Democratic Party (PDP).
According to the statement jointly signed by Mr. Tope Ogunkuade and Comrade Tunji Adeleye, EAYC Convener and Secretary respectively, the APC youths said if Fayemi was interested in a Muslim as his running mate, there are many committed Muslims in the APC that he should have choose from, instead of considering someone who was never a member of the party.
The youths said this will be a slap on all the committed and loyal members of the party. Is Fayemi saying that there are no members of the APC in Ado Ekiti or elsewhere in Ekiti that are Muslims?
Dr. Adubiaro is from Igboora in Oyo State. She is only related to Ado Ekiti by marriage.
Besides, she was at the campaign rally held by the Muslims to thank Governor Ayodele Fayose for picking Kazeem Ayodeji Ogunsakin as running mate to the PDP candidate, Prof Kolapo Olusola Eleka. So at what point did she become APC member such that she will now be picked as our party's deputy governorship candidate?
What happened to the likes of Hon. Ahmad Seyi Shittu, Alhaji Yakubu Sanni, Alhaji Abdulkareem Gidado, Alhaji Jamiu Babalola, Alhaji Gani Olowoyo, Alhaji Jinadu Ayodele, and most importantly, Alhaja Maryam Ogunlade; a former President of the Federation of Muslim women Associations of Nigeria (FOMWAN), Ekiti State Chapter.
If this rumour turns out to be true, it will mean that Fayemi does not trust those of us in the APC and there will be no assurance that if he becomes governor, he will give appointments to members of the party.