Atiku appoints Gbenga Daniel as DG for his presidential campaign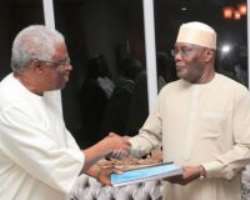 Former vice president, Atiku Abubakar, has appointed Otunba Gbenga Daniel, a former governor of Ogun State, to head his 2019 presidential campaign in the Peoples Democratic Party (PDP).
In a letter signed by Atiku and obtained by Daily Nigerian, Daniel will oversee all that pertains to personnel, resourcing and campaign staffing.
A twitter support group for Atiku, 'Youths For Atiku', also confirmed the development in a tweet on Sunday, May 27.
Youths For Atiku @2019_ForPDP
Former Vp Alhaji Atiku Abubakar has appointed Otunba Gbenga Daniel as his Campaign Organization manager. @ atiku @ OlaFabiyi2 @ UcheSecondus @ PDPYouthLeader
7:46 PM – May 27, 2018
Twitter Ads info and privacy
The letter reads in part, "I am pleased to officially notify you of the appointment of His Excellency, Otunba Gbenga Daniel ("OGD" as he is popularly known), as the Director-General of the Atiku Campaign Organisation.
"OGD is a former two-term governor of Ogun State, and a foremost engineer, businessman and astute politician. He has vast knowledge of the Nigerian political terrain and has a wide network of contacts and friends all over Nigeria, and these are a few of the assets he will be bringing to our campaign organisation.
"I am in no doubt OGD is a very positive and welcome addition to our campaign and I look forward to working with him as he leads over campaign to victory come February 2019.
Going forward, OGD as the Director General, has overall responsibility for every aspect of the campaign. This includes mobilization and organizing (delegates and supporters), publicity and communication, finance and expenditure. I am in the process of setting up a separate fund raising committee which will work alongside and complement the campaign finance structure.
"The DG will also have overall responsibility for personnel, resourcing and campaign staffing and any other political or campaign related matters, that I give my delegated authority.
"From now on, my role will be limited to continuing my consultations with the relevant stakeholders in the PDP and in the political landscape as a whole. All campaign or other staff will report to the DG with immediate effect, and all campaign or political matters will also be referred to the DG.
"The DG will report to me directly."
If given the PDP presidential ticket, Atiku and incumbent President Muhammadu Buhari, both from northern Nigeria, will battle for the Presidency seat.
The President had in April announced the Minister of Transport, Rotimi Amaechi as the Director-General of the Muhammadu Buhari Campaign Organisation for the 2019 elections.