Children's Day: Madumere Advocates For Policies To Cater For Walfare Of Children.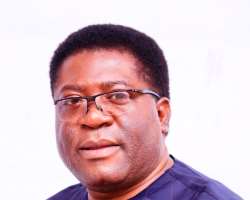 The Imo state Deputy Governor, Prince Eze Madumere, has described children as precious gifts from God, stating that they are the symbol of creation that must be specially catered for in the society at large.
This was contained in his message to mark the 2018 Children's Day celebration in the state. According to Prince Madumere, leaders at all levels must endeavour to ensure an enforceable policy thrusts that will protect every child, especially to see to their health, and education, which he said is their fundamental right.
"They are symbol of creation and I am one of the greatest advocates of well thought-out policies to cater for their health, education and their protection should never ever be perceived as privilege but as a right.
I say this because, some of these bundles of joy are unfortunately born into homes that lack basic needs of life but would you consider that a fate? No not at all. This is one of my greatest attractions that drew me to 'Red Cross Society', and my fulfillment can only come when we achieve a State and National Policy that does not only pay lips service to protecting and equipping every child but an institutionalized framework that make their future secure and give them a pride of place". He opined
On youths, Madumere hinted that if leaders fail to champion a solid basic foundation for every child in the society, there won't be virile and enterprising youths that will take over the mantle of leadership in the future.
The Imo state number two citizen, said "we can never have virile and enterprising youths we can say are prepared for tomorrow's leadership if we fail to give every child that solid foundation. I solemnly promise to show an example in this area of great importance for the sake of God and man."