Charter of Deceit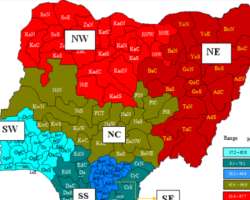 Nigeria's restless hegemonic expansionists who are mainly of the Fulani ethnic stock are up and about again, spinning their customary evil. Still smarting from the colossal defeat, they suffered at the hands of indigenous Nigerian peoples, who despite an unprecedented terrorist campaign ofmurderous violence refused to yield their ancestral lands for the resettlement of Fulani terrorists, Fulani expansionists are still composing fresh charters of deceit.
Having failed to trick the indigenous peoples into perpetually parting company with their ancestral lands first in the name of grazing reserves, then in the name of cattle colonies and lately in the name of Federal Government acquired ranches, the hegemonic expansionists have shifted their evil attention to the waterways.
The President Muhammadu Buhari Administration which is the arrowhead of Fulani hegemonic expansionism, recently sponsored a 'Waterways bill' at the National Assembly which seeks to take over all the waterways in Nigeria as well as "adjoining lands". That bill would have sailed through but for the vigilance of Southern and possibly Middle Belt legislators who queried its scope and intent.
Nigeria's indigenous peoples are indebted to their Senators and Honorable Members of the National Assembly for their vigilance in thwarting this desperate expansionist onslaught.For details of this bill please refer to the Punch Newspapers report dated May 25, 2018, titled "Buhari's Bill on Water Resources splits Northern and Southern Senators" ( http://punchng.com/buharis-bill-on-water-resources-splits-northern-southern-senators/ ).
Realizing that the road to hell is paved with good intentions;Mindful of the fact that the President Buhari Administration only has "noble" intentions for his own Fulani ethnicity (we shall revisit this point shortly); Consciousof the fact that he only harbors ignoble intentions for the rest of Nigeria;Convinced that the price of liberty is eternal vigilance; We wish to caution Nigerians of the need to be ultra-vigilant as the ghastly and expansionist Buhari Administration begins to wind down its constitutionally allotted tenure of four years.
The question right thinking people should ask themselves is this. What lies behind the overriding and desperate need of the Buhari Administration to control Nigeria's waterways? Clearly this renewed and desperate expansionist effort is ultimately aimed at seizing the waterways and "adjoining lands" of indigenous Nigerian peoples for the resettlement of Buhari's so-called "Gaddafi-trained and armed" Fulani herdsmen terrorists of undisclosed nationality.
At a time when progressive nations are shrinking the size of government intrusion on private citizen's lives, the Buhari Administration seeks to increase not just any government but the Federal Government's footprint throughout Nigeria.Typical of a man with limited ability andambition, instead of looking at how to expand Nigeria's influence globally in an ultra-competitive world, the Buhari Administration is preoccupied with how to expand the Federal Government's influence locally in very mundane and very petty issues.
Other than ethnic expansionist mischief, what is it that currently impedes the Federal Government from carrying out worthy developmental objectives along Nigeria's Waterways? For instance, when the Federal Government decided to dredge the River Niger for the benefit of all a few years back, there was very little organized resistance.
There currently exists a Federal government owned National Inland Waterway Agency whose activities are barely visible. All sand dredging along Nigeria's waterways and adjourning flood basins are supervised and taxed by the Federal Ministry of Mines and Solid Minerals. What therefore is the urgent need for a Waterways Bill other than a land and river grab for the ultimate benefit of the Fulani?
At this point, it is necessary to throw in a cautionary piece of friendly advice to Nigeria's Fulani ethnicity.Take it or leave it, the Buhari Administration is setting the Fulani back relative to other Nigerians. What motive is there for the Fulani to compete and excel vis-à-vis Nigerians of other ethnicities when they are sure that the Federal Government has 'got their backs and only their backs'.
By appointing and promoting people into positions of authority simplybecause of their Fulani ethnicity; By "looting" opportunities which ought to go to other far better qualified Nigerians, and reserving same exclusively for the Fulani; By retaining unfairly appointed Fulani in "looted positions" regardless of their actual performance in office; The Buhari Administration is simply perpetuating Fulani incapacity to compete on an equal footing with other Nigerians.There shall be a natural price to pay in the years to come.
Proverbs 13:24 captures it very nicely when it states, "he who spares his rod, hates his son, but he who loves him, takes care to chastise him." Now the late Major-General Tunde Idiagbon who was Chief of Staff, Supreme Headquarters (effective No.2 man to then Head of State Major-General Muhammadu Buhari in what has come to be known as the Buhari-Idiagbon Military Government of Nigeria), was a man who truly loved his own biological son Adekunle.
In an interview with Punch Newspapers published on May 20, 2018 ( http://punchng.com/in-military-school-dad-gave-me-a-hot-slap-because-i-didnt-salute-him-tunde-idiagbons-son/ ), Adekunle Idiagbon revealed that his dad, the late Major -General Idiagbon gave him a hot slap in military school because he did not salute him.
His story goes thus.While at Military School Zaria in 1982, his father who was the military secretary and a brigadier general in the army had come visiting the military school commandant who was his friend. Adekunle while under routine drilling with his mates in the school was told to go up to the Commandant's house to meet his father.
On sighting his father lounging with the Military Commandant simply named Charles in the report (most likely the late Major-General Charles Bebeye Ndiomu), Adekunle as any young adolescent would do, rushed to embrace his father. The senior Idiagbon, taken aback, initially accepted the embrace, then pushed his son away and gave him a hot slap for not saluting him beforehand since both, father and son were in army uniform.
Turning to his friend and colleague the commandant, then Brigadier-General Tunde Idiagbon was quoted as saying "Charles is this the way you train your students, a boy would see a general in the Nigerian Army and not give him a salute?" Whereupon Charles the commandant called in the troops in charge of discipline, who removed his belt and cap and started punishing him right there in front of his father. The latter did not budge.
Now that is discipline, that is leadership. Although a fervent muslim, the late Major-General Tunde Idiagbon demonstrated his love for his son as counselled in the book of Proverbs. It is safe to say that had Tunde Idiagbon (a Yoruba-Fulani) been President of Nigeria at this present time, the Fulani herdsmen terrorists holding Nigeria down would have been chased out of town back to Libya "from whence they came and where they were trained and armed".
Truly the good die young, but the wicked live on to perpetuate greater evil. What a wicked world we live in.
Anthony Chuka Konwea, Ph.D., P.E., M.ASCE, MNSE, FNIStructE, MNICE.
Disclaimer:

"The views/contents expressed in this article are the sole responsibility of the author(s) and do not necessarily reflect those of The Nigerian Voice. The Nigerian Voice will not be responsible or liable for any inaccurate or incorrect statements contained in this article."