Senator Dino Maleye makes comeback, says Police owe him N10m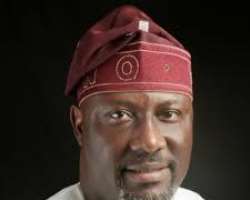 Senator Dino Melaye has accused the Police of failing to pay him the sum of N10 million.
Embattled Kogi lawmaker, Senator Dino Melaye has accused the Police of owing him N10 million as damages awarded him by an unnamed court.
Melaye who was granted bail by the Court on Wednesday, made the disclosure via Instagram on Friday, May 18, 2018.
The lawmaker accused the Police of illegally arresting and harassing Nigerians for a long time.
"Police illegal arrest and harassment did not start now," Melaye said.
"This was four years ago. Where Court awarded 10-million -damage to me that Police is yet to pay. Fear not him that can destroy or damage the body, fear only Him that can destroy both the body and the Spirit. My Spirit and resolve is unshakable," he added.
Melaye's troubles
Melaye was arrested in April by the Police over the case of alleged gunrunning and conspiracy.
The lawmaker however jumped off a moving Police vehicle enroute Lokoja, the Kogi state capital.
play

Senator Dino Melaye wheeled into the hospital on a stretcher

(Gist Arena)

He landed at the hospital following injuries during the incident. He was under arrest during his stay at the medical facility.

Melaye was denied bail by the court in Kogi state and remanded in prison.

The lawmaker appealed the ruling and was returned to Abuja for further medical attention.