Buhari Meets With Modu Sheriff Behind Closed Door In Presidential Villa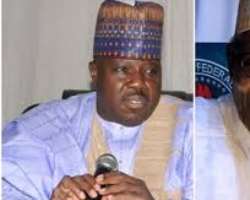 President Muhammadu Buhari and former governor of Borno state, Ali-Modu Sheriff who is also the former National Chairman PDP Caretaker Committee met behind closed doors at the Aso Rock Presidential Villa in Abuja.
Sheriff, who was ousted as the Peoples Democratic Party (PDP) caretaker committee chairman, arrived the villa at about 2:40pm yesterday.
It will be recalled that this is the first time Buhari was meeting with Modu Sheriff since he was ousted as caretaker committee chairman of the opposition party.
Similarly, it will be recalled that Senator Sheriff had met with Vice President Yemi Osinbajo at the Presidential Villa last year on September 22, 2017 over his interest to join the ruling party in Abuja where he was asked by the leadership of the party, to do so at his ward.
However, it was reported that there was confusion on Thursday, April 26, in Borno state when Sheriff was prevented from decamping to the All Progressives Congress (APC) while some of his allies were welcomed into the ruling party at the APC national secretariat in Abuja on Thursday, April 26 and Sheriff was advised to register at the ward level in Borno.
Those welcomed to the party include: Senator Hope Uzodinma from Imo state and Senator Gbemi Saraki, younger sister of Senate president, Bukola Saraki; Senator Teslim Folarin, Ahmed Gulak, who served as political adviser to ex-president Goodluck Jonathan among many others.
However it was reputed that an MOU was later agreed between Governor Shettima of Borno state and Ali Modu Sheriff As the state leadership of the APC agreed to allow the ex governor and his allies rejoin the ruling partyt at a meeting of the caucus/stakeholders of the party in Borno state on Friday, May 4, 2018 where Sheriff revealed that he left the Peoples Democratic Party due to the misunderstanding he had when he was national chairman of the party and impressed with the honest and leadership of both Buhari and Kashim Shettima at the national and state levels based on their performances.