Updated with photos: Imo Apc Congress Aftermath : Apc Secretariat Gutted By Fire
 OKOROCHA'S MEN FINGERED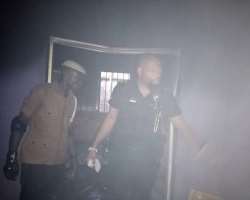 The raging war over who controls the structure of All Progressives Congress in Imo State between Governor Rochas Okorocha and APC Stakeholders under the aegis of Alliance Forces of All Progressives Congress led by the Deputy Governor of Imo State, Prince Eze Madumere has entered the feverish point as it has consumed the better part APC State secretariat in flames.
This evening, the APC secretariat located at Works Layout by Okigwe Road, Owerri, was seen with thick smoke and tongue of flames ripping through the roof of the building, which stirred up pandemonium as people ran helter-skelter while the courageous used everything in sight including sand and whatever that was available as fire-fighting instrument.
According to Government House source, the fire incident may not be unconnected with tomorrow's APC local government area congress, which Governor has vowed to stop following his woeful failure in seizing the party structure in the last ward congresses.
Corroborating our source's revelation, Uchenna Okoronkwo cited one Mr. Nwadike Chikezie who is a social media aide to Governor Okorocha's son-in-law, Hon. Uche Nwosu, the Chief of Staff, government house, with a facebook account name, Nwadike Chikezie at about 10 am had written on his facebook; "Imo State Youths insist on ward Congress before LGA congress."
Again shortly after bringing the fire under control by the men of the fire service, Nwadike Chikezie again at about 5 pm, he wrote on his wall: "Breaking News: Having failed in their bid to force the National Leadership of the Party, APC to admit that there was Congress in Imo State whereas nothing of such happened, they have resorted to violence and has set APC State Party Secretariat on fire.
Please, tell them that no amount of impunity will make illegality to be legal." He submitted that the two statements may have been a decoy to deceive the unsuspecting public.
It will be recalled that last Saturday, during the ward congresses, it was reported that the Deputy Governor, Prince Eze Madumere, Sen. Ben. Uwajumogu, Hon. Emeka Nwajiuba, Sir Jude Ejiogu, Chief felix Idiga among many others were physically attacked by fiercely looking thugs suspected to be those granted amnesty by Governor Okorocha. The miscreants were led by Hon. Deacon Chike Okafor, member, House of Representatives, Hon. Kenneth Emelu, Adviser to the Governor on Youth Affairs, Hon. Kingsley Uju, Deputy Chief of Staff, Operations who is notoriously known for unleashing thugs on the commoners.
Following Governor Okorocha's confusion on how he lost the ward congresses, Monday, May 7, 2018, the party secretariat was reported to have been attacked by a troop of thugs led by Comrade Jeff Nwaoha.
Now that once known peaceful city of Owerri has become a theatre of war, who knows what the epilogue of tomorrow's LGA congress will read.