Nuj Communique At The End Of Its Exco Meeting Held On 9th May, 2018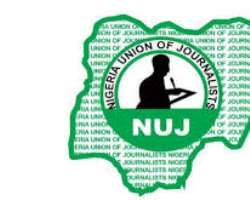 At the end of its exco meeting held on 9th May, 2018, the Nigeria Union of Journalists has made vital resolutions on state and national issues that positively or otherwise affect the nation.
Zamfara state chapter of the Nigeria Union of Journalists, NUJ, mourn the death of Hajiya Halima (Shibo).
• Mother to a former civilian Governor of Zamfara State, His Excellency Alh. Mahmud Aliyu Shinkafi (Dallatun Zamfara). The death of Hajiya Halima popularly known as Shibo who died at age of 93 years, is great loss to the family and people of the state.
The NUJ condoles with the family, and pray to Allah (SWA) for Aljannah Firdaus to be her final place of abode.
• Zamfara State chapter of the NUJ wishes to rejoice with new leaders of the state branch of Sports Writers Association, (SWAN), who were inaugurated.
• In strong terms, the NUJ condemned the incessant killings of innocent citizens in Zamfara State and called on Government, Stakeholders and security agencies to be on top of the situation.
• Journalists were enjoined to actively participate in sporting activities, particularly in reporting events that relate to sports, noting that such move is helpful in sports development at grassroots, local, state and national levels.
• Working journalist have been admonished to make online registration in conformity with modern realities of NUJ drive toward working through technology and modern concept. That will make registration easier, faster and efficient.
• The NUJ has observed with dismay and great concern the prevailing auto accidents for which many lives were lost day by day. Commercial motor drivers official, especially the NURTW and private drivers should do whatever is practical to stop the current trend as well as attitudes of drivers in order to ameliorate the situation.
• The Federal Government was commended for banning, sale and consumption of codeine related syrups across the country. The move would go a long way in eliminating toxic substances that affect the way of life and attitude of people in turn explore more dangers to the nations peace and stability.
• In achieving the Federal Government desire to eliminate drug addiction such as the sale and consumption of codeine related mixtures, the NDLEA should rise up to its responsibility by taking every possible measures to stop the trend.
ABUBAKAR AHMAD
Secretary