Senator Ovie Omo-Agege: Senate appeals against nullification of Suspension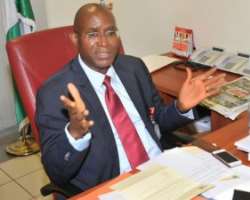 The Senate has appealed the nullification of the suspension of Senator Ovie Omo-Agege by the Federal High Court in Abuja on Thursday.
The Senate the Senate and the Senate President have promptly filed a Notice of Appeal and a Motion for Stay of Execution of the same Judgement on the 10th of May, 2018.
Justice Nnamdi Dimgba had earlier nullified the suspension placed on Omo-Agege by the upper legislative chamber over alleged infractions of its rules.
The senator had dragged the Senate before the court, alleging that his suspension was illegal, unlawful and such should be reversed by the court.
In the suit marked: FHC/ABJ/CS/314/2018, he prayed the court for an order restraining the upper legislative chamber from denying him access into the Senate chamber and or preventing him from carrying his legitimate duty as a senator in the National Assembly.
But delivering judgment in the matter, Justice Dimgba who reversed the suspension, held that though the legislature has the power to deal with erring members, it did not follow due process in arriving at its decision in the instant case.
The court however held that the position of the plaintiff that the Senate was wrong in proceeding with his investigation was baseless and consequently refused him reliefs one to seven prayed for in his originating summons.
In addition, he held that the upper legislative chamber was right to have directed its committee to investigate Omo-Agege.
The senator representing All Progressives Congress (APC) in Delta was suspended by the senate because he openly criticized the amendment of election sequence carried out by the senate.
Omo-Agege had accused the Senate of targetting President Muhammadu Buhari with the Electoral Act Amendment, especially that aspect that deals with modification of election sequence.
Omo-Agege who was referred to the Senate Committee on Ethics, Privileges and Public Petitions fr investigations of comments attributed to him, sued the senate asking the court to stop the committee from investigating him. Following the suit, the committee recommended that the senator be suspended and he was therefore suspended for 90 legislative days.